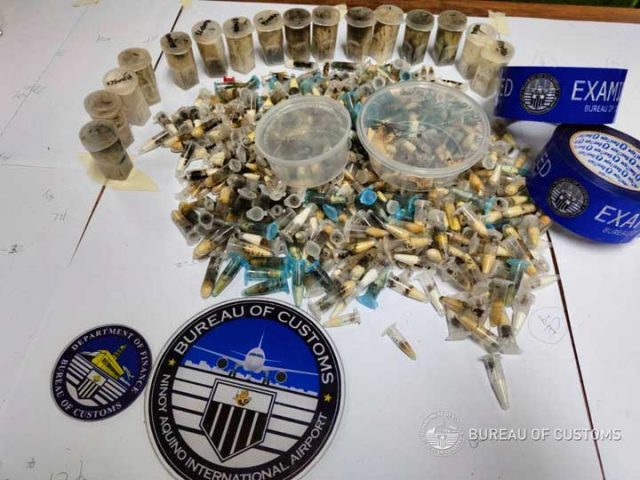 Over 800 spiders and spiderlings were found smuggled in three air postal parcels at the Central Mail Exchange Center at the Ninoy Aquino International Airport on Sept. 14.
The Bureau of Customs Port of NAIA, along with the Environmental Protection Compliance Division, found 809 spiderlings and 17 adult spiders concealed small plastic vials in packages which were supposed to contain figurines and medicine said the Customs bureau in a statement released on Friday.
The three parcels came from Poland and were addressed to residents of Pasay City, Parañaque City, and Batangas.
"The spiderlings and spiders were immediately turned over to the Department of Environment and Natural Resources Wildlife Traffic Monitoring Unit (DENR WTMU) pursuant to Customs Administrative Order No. 10-2020," said the statement.
The DENR is building a case against the importer and co-conspirators for violation of RA 9147, aside from seizure and forfeiture proceedings "for violation of Section 1113 in relation to Section 117 and RA 9147." The Bureau of Customs, meanwhile, "shall conduct parallel case build-up for possible prosecution of violation of Section 1401 of the CMTA (Customs Modernization and Tariff Act)."