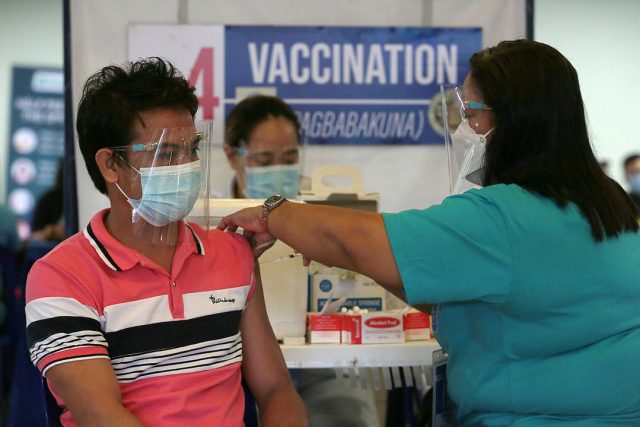 CORONAVIRUS infections in the Philippine capital and nearby cities have been declining, but the region remained at high risk from the virus, researchers from the country's premier university said on Sunday.
Metro Manila's positivity rate in the past seven days was 19%, which is considered high, the OCTA Research Group said, weeks after a new lockdown system was enforced in the region.
The National Capital Region was still at high risk as a whole, OCTA fellow Fredugusto P. David twitted. "Navotas, Malabon, Manila, Valenzuela and Pateros were at moderate risk."
The daily average in the capital region had gone down to 4,220 cases, it said in a report. Daily infections for 100,000 people stood at 30.22% on Sept.19 to 25, it added.
OCTA said 61% of hospital beds in Metro Manila had been occupied, while 76% of intensive care units were used.
Mr. David separately told ABS-CBN TeleRadyo the reproduction number in the capital region had fallen to 0.94, which is below the critical cutoff of 1.4.
He said the new lockdown system had helped cut coronavirus infections in Metro Manila. He also traced the decline to the government's continued vaccine rollout and public compliance with health protocols.
More than 43 million doses of coronavirus vaccines had been given out as of Sept 23. A quarter of the Philippine population or 19.67 million Filipinos have been fully vaccinated.
Calabarzon had a virus reproduction rate of less than 1, while Benguet, Cagayan Valley, Negros Oriental and Leyte have recorded a rise in cases, Mr. David said. "We're verifying whether there's a trend or it's just clustering."
The decline in infections in Metro Manila could still get reversed, Mr. David said. "We have no assurance that it won't change," he said. "There are ways to reverse the trend.
Congressmen have criticized OCTA Research for what they called were its inaccurate coronavirus projections. The group has said it uses data from the Department of Health.
The Department of Health (DoH) reported 20,755 coronavirus infections on Sunday, bringing the total to 2.49 million. It did not report any deaths, citing technical issues. Recoveries increased by 24,391 to 2.29 million, DoH said.
There were 161,447 active cases,81.1 % of which were mild, 13.4% did not show symptoms, 1.6% were severe, 3.18% were moderate and 0.7% were critical.
The agency said 72 duplicates had been removed from the tally, 63 of which were reclassified as recoveries. Two laboratories failed to submit data on Sept. 24.
The Philippines reported its first coronavirus case on Jan. 30 last year — a Chinese woman from Wuhan City in China, where the novel coronavirus was first detected.
Meanwhile, an inter-agency task force should review the guidelines for fully vaccinated people under the new quarantine plan, presidential adviser for entrepreneurship Jose Ma. A. Concepcion III said in a statement.
The businessman said he had written Cabinet Secretary Karlo Alexei B. Nograles and vaccine czar Carlito G. Galvez, Jr. urging them to clarify restrictions for fully vaccinated people in select indoor activities among business establishments for Alert Levels 2 and 3 areas. He said the guidelines were limited to areas under Alert Level 4.
"This can present a risk both to unvaccinated customers and the employees of the establishment," Mr. Concepcion said.
Under Alert Level 4, indoor dining services are limited to 10% capacity and will only accommodate fully vaccinated people.
Mr. Concepcion said the government should consider allowing only fully vaccinated people for indoor business transactions across Alert Levels 2 to 4, and increase the capacity of businesses allowed to operate.
"We have to be consistent and extend privileges to the fully vaccinated across all alert levels as the goal is to reopen safely," he said. "If we reach Alert Level 1 where it is deemed safe, then anyone can freely move. But if there are risks, let's protect those who have not received the vaccine."
Mr. Concepcion earlier recommended that indoor businesses such as dining and personal care services be allowed to accommodate fully vaccinated customers in areas under Alert Levels 2 and 3.
Restaurants in areas under Alert Level 3 may operate at 30% of their indoor capacity, while those in Alert Level 2 enjoy 50% seating.
"We can increase the capacity even further for the fully vaccinated as we move to lower alert levels," Mr. Concepcion said. "A higher percentage means more chances for the businesses to gain back months' worth of losses so they can pay back their financial obligations."
He added that allowing fully vaccinated people to move more freely would make it possible to safely ease restrictions and pave the way for economic recovery.
"In this way, we can capture the safe reopening of the economy, while preventing the surge of cases brought by unvaccinated individuals," he said. — K.A.T. Atienza and Revin Mikhael D. Ochave