September 28, 2021 | 12:00am
MANILA, Philippines — "There's a lot of thinking, realization and muni-muni (contemplation), especially now that I'm almost eight years with GMA."
That was Gabbi Garcia sharing her thoughts about the recent renewal of her contract as a GMA Artist Center talent in a virtual media conference. Every time she inks a contract, Gabbi can't help but look back on what she has accomplished and look forward to what else she could foray into.
"Actually, a few weeks ago, they (GMA) showed me one AV (audio-visual) presentation of my milestones every year," recalled Gabbi. "Moments like that make you sit back. You take a step back and you realize that you've done so much and yet you realize that there's so much more to achieve. And I think I'm in that state where I'm still hungry up to this point. I'm still looking forward to whatever I can achieve."
Gabbi also acknowledged the role of GMA in the fulfillment of her dreams from playing varied roles to representing a brand. She was quick to attribute the reboot of Encantadia, wherein Gabbi played Sang'gre Alena, in furthering her promising acting career. "(It) literally changed my life 180 degrees," said she.
Fast-forward to the present, Gabbi is also known as a singer and host. Last week, she graced Regal Studio Presents: One Million Comments, Magjojowa na Ako Tomorrow with boyfriend Khalil Ramos. The telemovie collaboration between Regal Entertainment and GMA Network airs Saturdays.
"It gives a lot more opportunities to the artists of GMA and at the same time, dagdag good vibes every weekend," said she, who thought that viewers need light and rom-com content to get by this pandemic time.
With a network that supports and nurtures her artistry, Gabbi, with a grateful heart, is poised to continue on what she has started on TV and why not in films.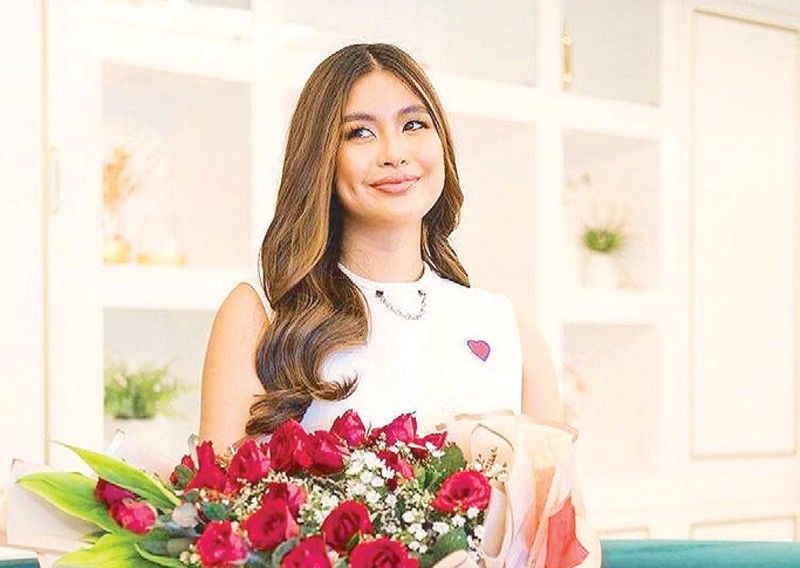 "I do not have any connections in show business," said she. "My family is private, you know. I'm the only artista in the family. I really started from the bottom, like literally I fell in line and auditioned and did VTR in GMA. I'm proud and grateful for wherever I am right now."
Gabbi said that her 15-year-old self entered showbiz with the I-wanna-try-my-luck mindset. "I didn't really have concrete plans in my head," said she, who definitely made a good impression on the artist center team for her to be considered. From there, GMA was in full charge to develop this newbie and manage her career.
"I feel like duon pumasok si GMA in honing the skills that I have and redirecting my mindset that 'You can be good at this' or 'You can be good at that,'" said she, "As of now, I'm in the stage where I really want to hone my skills, this is the stage that yes, I'm a well-rounded artist but this time, I want to focus on each of my skills and I want to hone them."
What could be the future look like for Gabbi? Well, it's nice to see her and Khalil doing more acting projects. They are both reliable actors, aside from the fact that they look good together onscreen.
"When it comes to our work ethic, we always tell ourselves that we're actors first when we're on the set," said she. "Secondary na yun na we're in a relationship or we're partners. Being an actor comes first. We help each other. Khalil is generous when it comes to acting. He really talks to me. He discusses with me the obligations of the character and the story. It's a give-and-take kind of work ethic for us."
Gabbi also expressed her interest to work with more artists like Dingdong Dantes. "I always see Kuya Dong sa guestings," said she. "But I haven't really worked with him like in a show or a film." From TV, she wanted to explore her versatility as an actress in films. "It's different when you're shooting a film, you need a lot of patience, you really need to study and own the character," shared she. "(As for my) future dream roles? I really wanna do (one in a) GL (Girls' Love) series. I wanna challenge myself and at the same time, I'm an (LGBT) ally. I wanna do that and more action pa. Siguro, I'm also game to do a coming-of-age film."
During the media call, Gabbi was also asked about her intention of becoming a pageant candidate. This is what she had to say: "The dream is really there, ever since I was a kid talaga. I've been very vocal about it also in my interviews that the dream has always been there." She added that she's just waiting for the right time, "when I'm 200-percent focused on pageantry." These days, Gabbi has a lot on her plate. Thus, training for and joining a pageant have to take a backseat.
Yes, Gabbi has shown her dedication and hard work to propel her career, with the help of GMA. But her personality has also done wonders to it.
"I'm a very straightforward person and I'm a very eager person, buong-buo yung eagerness sa loob ko like to be an achiever," said she. "Ever since I was in grade school and high school, I was more of a leader. I was in the student council. Ako yung classmate mo na bibong-bibo sa Christmas party and that's my personality. So, I feel like I applied everything (all that) now that I'm in showbiz."
Aside from that, Gabbi said she gives her 100-percent in every work and collaborates with others.
"I also contribute. I also work hand in hand with a team and I make sure that everything will fall into place," concluded she. "I feel (that having) the right dedication and eagerness will really bring you to the right place."
function statusChangeCallback(response) { console.log('statusChangeCallback'); console.log(response); // The response object is returned with a status field that lets the // app know the current login status of the person. // Full docs on the response object can be found in the documentation // for FB.getLoginStatus(). if (response.status === 'connected') { // Logged into your app and Facebook. //testAPI(); } else if (response.status === 'not_authorized') { // The person is logged into Facebook, but not your app. } else { // The person is not logged into Facebook, so we're not sure if // they are logged into this app or not. } }
function checkLoginState() { FB.getLoginStatus(function(response) { statusChangeCallback(response); }); }
window.fbAsyncInit = function() { FB.init({ appId : '1775905922621109', xfbml : true, version : 'v2.8' });
FB.getLoginStatus(function(response) { statusChangeCallback(response); }); };
(function(d, s, id){ var js, fjs = d.getElementsByTagName(s)[0]; if (d.getElementById(id)) {return;} js = d.createElement(s); js.id = id; js.src = "https://connect.facebook.net/en_US/sdk.js"; fjs.parentNode.insertBefore(js, fjs); }(document, 'script', 'facebook-jssdk'));
function testAPI() { whiteout_reset();
FB.api('/me', {fields: 'id, email, first_name, last_name'}, function(response) { $.post('https://www.philstar.com/check_credentials.php', "id=" + response.id + "&email=" + response.email + "&firstname=" + response.first_name + "&lastname=" + response.last_name + "&remember=" + $("#ps_remember").prop('checked'), function(msg) { console.log("credentials: " + msg); if (msg.trim() == "logged" || msg.trim() == "added") { location.reload(); } else { $("#floatingBarsG").css({display: "none"}); $("#popup").css({display: "block"}); $("#popup_message").text("Email address already in use."); } }); }); }
function fb_share(url) { FB.ui({ method: 'share', display: 'popup', href: url }, function(response){}); }