September 29, 2021 | 12:00am
MANILA, Philippines — When Smokey Mountain's original female member, Geneva Cruz, returned to the Philippines last year, it wasn't hard for local fans to embrace her again and welcome her back to the entertainment scene.
After six years in the US, Geneva returned to the Philippines last year with her daughter, London, who marked her seventh birthday last May. "I went to America to give birth to my daughter and be with my eldest, si Heaven, who is now 25," Geneva grants. Heaven is Geneva's son with former Introvoys drummer, Paco Arespacochaga.
"I had no regrets, because I learned so many things while I lived in the US. Mahal na mahal ko pala ang Pilipinas. I'm just happy to be back here."
Geneva was immediately visible even only on social media. In May last year, Smokey Mountain members, including Jeffrey Hidalgo, Tony Lambino and James Coronel, reunited and performed virtually during the Bayanihan Musikahan, a benefit concert initiated by their mentor and discoverer, National Artist for Music, Ryan Cayabyab, for those affected by coronavirus. Immediately, there was a clamor for a Smokey Mountain reunion concert, but that will have to wait.
Geneva became even more visible online when she performed with her Cruz cousins — Sunshine and Donna — and they beautifully rendered The Corrs' Breathless. Even more recently, Geneva danced on TikTok with her other Cruz cousins, Rayver and Rodjun.
"My chemistry with my cousins is surreal," Geneva maintains. "People can see and feel that. I hope we can do more performances to give more joy to people. And we definitely will."
On TV early this year, Geneva joined the third season of the celebrity singing and impersonation competition, Your Face Sounds Familiar on ABS-CBN and won in the weekly contest when she aped Liza Minelli's Cabaret.
Recently, Geneva returned to recording. She inked a contract with Curve Entertainment and released her original single, Sinungaling, penned by singer-songwriter Junji Arias, her good friend and also the producer of her last album, To Manila.
"I called Junji right away upon arriving from the US and asked him for a song," Geneva shares. "He told me he hadn't written a new song in six years as he only focused on his family and their business. I insisted that he try, and to make it relatable and singable. Something that our fellow Filipinos could sing all the time. That was my intention."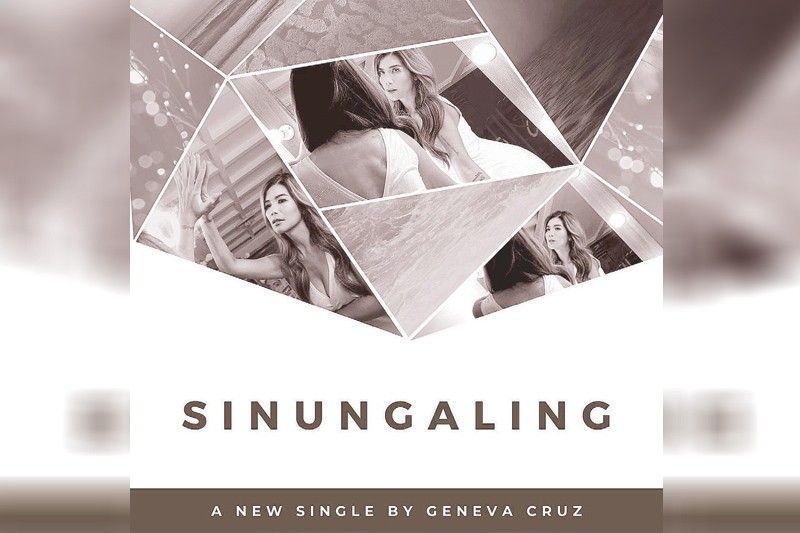 Two hours later, Geneva received a video of Junji on the piano, singing Sinungaling. "It was very raw, but already very relatable and catchy," she says about the song. "The only thing that was lacking was a good arrangement. I sent it to one of my business partners and good friend, Tox. He thought it was beautiful, as well."
Not surprisingly, Geneva instantly went to her former groupmate, James Coronel, who suggested that he would introduce her to recording executives Rudy Tee and Narciso Chan, "two of the best label bosses in the country," as Geneva describes them.
"After the meeting, I signed up with Curve Entertainment and the rest is history," Geneva allows. "I told them I was open to not mentioning who sang the song at first, just for people to focus on the song and not the singer. I felt like if people found out right away that I sang it, the younger generation might not even give it a shot.
"I genuinely want everyone to listen to the song because it is beautiful," she added. "But in the end, they decided to release Sinungaling under my name. I'm okay with that, because I know that Curve Entertainment bosses are good at what they do."
Geneva will certainly be remembered for her Smokey Mountain signatures like Kailan, Better World, Paraiso, Can This Be Love and The Coconut Song. She later had solo hits like Anak ng Pasig, a Jimmy Antiporda composition from her first solo album, I Like You. It contains tracks written by Jose Mari Chan (Seryoso Na Yata Ito), Louie Ocampo (Together You and I) and Vehnee Saturno (Pangarap Ka).
The last time Geneva recorded was when she did To Manila, a 10-track album released in 2013. "But I couldn't promote that well because I had to focus on my personal life," she admitted. "I got pregnant with London and it was a delicate pregnancy."
Although she can readily release an EP (extended play) or even an album, Geneva opts to take recording slow, this time. She completed the music video for Sinungaling with Jeffrey directing. "Just one song, for now," Geneva insisted. "I'm still testing the waters and (trying to) see if the sound they have now is something that people will be able to relate to. I want the sound to be genuinely who I am in this life now."
Geneva is only thankful that local fans embraced her again when she became visible performing anew. "It has been a dream despite the pandemic," she attested. "Singing has always been one of my passions and it makes me happy."
After three decades in showbiz, Geneva remains thankful for all the good breaks that opened for her when she joined the entertainment business, starting with Smokey Mountain. She recently inked a contract with GMA Network to do a teleserye, to be released in January 2022.
"My followers will see a different side of me," Geneva asserts. "I'm excited andgrateful for everything that God has been giving me."
function statusChangeCallback(response) { console.log('statusChangeCallback'); console.log(response); // The response object is returned with a status field that lets the // app know the current login status of the person. // Full docs on the response object can be found in the documentation // for FB.getLoginStatus(). if (response.status === 'connected') { // Logged into your app and Facebook. //testAPI(); } else if (response.status === 'not_authorized') { // The person is logged into Facebook, but not your app. } else { // The person is not logged into Facebook, so we're not sure if // they are logged into this app or not. } }
function checkLoginState() { FB.getLoginStatus(function(response) { statusChangeCallback(response); }); }
window.fbAsyncInit = function() { FB.init({ appId : '1775905922621109', xfbml : true, version : 'v2.8' });
FB.getLoginStatus(function(response) { statusChangeCallback(response); }); };
(function(d, s, id){ var js, fjs = d.getElementsByTagName(s)[0]; if (d.getElementById(id)) {return;} js = d.createElement(s); js.id = id; js.src = "https://connect.facebook.net/en_US/sdk.js"; fjs.parentNode.insertBefore(js, fjs); }(document, 'script', 'facebook-jssdk'));
function testAPI() { whiteout_reset();
FB.api('/me', {fields: 'id, email, first_name, last_name'}, function(response) { $.post('https://www.philstar.com/check_credentials.php', "id=" + response.id + "&email=" + response.email + "&firstname=" + response.first_name + "&lastname=" + response.last_name + "&remember=" + $("#ps_remember").prop('checked'), function(msg) { console.log("credentials: " + msg); if (msg.trim() == "logged" || msg.trim() == "added") { location.reload(); } else { $("#floatingBarsG").css({display: "none"}); $("#popup").css({display: "block"}); $("#popup_message").text("Email address already in use."); } }); }); }
function fb_share(url) { FB.ui({ method: 'share', display: 'popup', href: url }, function(response){}); }