September 29, 2021 | 12:00am
MANILA, Philippines — Pop ballad I Guess I'm In Love is a song by Filipino-Norwegian singer-songwriter Clinton Kane. It was born out of love for her girlfriend. The irony is, the girl, now his ex, broke up with him the next day after he released the successful track.
"I released the song August 20th and the next day, the person I wrote it about, broke up with me," shared Clinton in a virtual roundtable interview with select press last Thursday.
"I wrote the song when I was in a relationship for nine months from December last year until August. The song is basically what it is, crazy about love. Truly falling in love," he added.
He definitely didn't expect the breakup, but the song was inspired by his love for her ex. "I just woke up one night and I wrote it. I was like, I was fuckin' in love and it's crazy. I just wrote it in about 20 minutes."
And for about two weeks after the breakup, he couldn't bear to listen to the song he composed. "I did not like posting it on TikTok, or stories and videos with that song playing in the background… 'coz I would listen to it, I would start breaking down and crying. It was like a little bit too much for me," admitted Clinton.
But now, the 22-year-old music artist has moved on from that "very annoying and harsh" experience. "I've accepted it (the breakup). I still think she's great and amazing. We're not together but there's no hard feelings."
Well, he gets emotional with the song though, sometimes. "There's more sadness in general to any song I sing… I think I did one performance in New York. And I started crying at some point. So there's definitely more emotion tied to it. But I still love singing the song," he recalled.
Despite the sad memories attached to the single, there's more to be thankful for. I Guess I'm In Love, under Columbia Records and Sony Music, is currently at No. 4 on Spotify Philippines charts and ranks within the Top 20 in RX 93. 1 and 99.5 Play FM radio stations.
Clinton has also debuted on the US Billboard Hot 100 at No. 90, and continues to climb on several official music charts all around the world, including his home country Australia (ARIA, No. 27), Canada (Canadian Hot 100, No. 50), UK (UK Singles Chart, No. 23), New Zealand (RMNZ, No. 27), and more.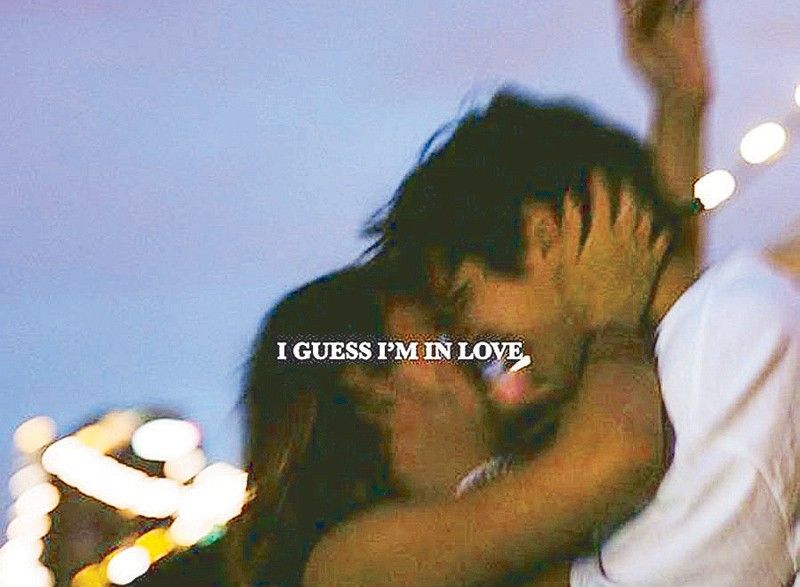 I Guess I'm In Love has also racked up pre-saves and over 40K fan-made TikTok videos using the sound. The song follows his breakthrough hit Chicken Tendies released in February.
"All of my songs come from personal experience. It's all real," he said. "I Guess I'm In Love was all about real love relationship. Chicken Tendies was about my relationship with my mom. Everything's very much personal — like things that happen to me. Feelings about trauma, very much trauma induced. All the inspiration comes from all the hurt, heartbreak in the past and still now."
The young musician began singing in church wayback. He only started writing songs when he was 18 while having an anxiety attack.
"I wrote a song about the panic attack. Finish the song. Panic attack left. I put in on YouTube and the next day, it got like a half a million views," narrated Clinton.
As to how he copes with his mental health during this pandemic, he joked, "I'm not gonna lie, it's alcohol," then bursting into laughter.
Seriously speaking though, he admitted how "hard" it was to cope with his mental struggles. "I started getting therapy. Three times a week. I have a therapist whom I talk to. I constantly call friends and all that stuff. I think it's also perfect for my job because I feel like when people are going through stuff mentally, that's negative. It gets worse if you keep it in and you don't talk about it. The good thing about my job is that I'm able to just let it out and bring it into songs…"
Nevertheless, he is "doing pretty good" now and "hanging there, for sure."
Indeed, music can be therapeutic. And for Clinton, it is something he wants "to do for the rest of my life. It's everything to me. It's the only thing I do every day. I have no hobbies. There's nothing that I do outside of music. All I do is TikTok about music. Write music…That's literally what I do. It's definitely my whole life," he told The STAR.
On his Filipino roots, Clinton's dad hails from Bohol and he has been to the Philippines five times. "I didn't get to meet my Filipino relatives. 'Coz I didn't really meet that side of my dad's family. But I definitely love the Philippines. I love the food, the people, I love everything about the Philippines," he told this paper.
He was born in Perth, Australia and moved to Los Angeles to pursue his music career.
Likewise, Clinton was impressed by P-pop SB19's Pablo cover of I Guess I'm In Love on TikTok. "I saw that. He killed it. His voice is amazing. It's pretty crazy. It's very humbling… and an amazing feeling."
He is also down to collaborate with Filipino artists. "I think that would be so fun. Definitely when I get to the Philippines, I want to meet everybody."
function statusChangeCallback(response) { console.log('statusChangeCallback'); console.log(response); // The response object is returned with a status field that lets the // app know the current login status of the person. // Full docs on the response object can be found in the documentation // for FB.getLoginStatus(). if (response.status === 'connected') { // Logged into your app and Facebook. //testAPI(); } else if (response.status === 'not_authorized') { // The person is logged into Facebook, but not your app. } else { // The person is not logged into Facebook, so we're not sure if // they are logged into this app or not. } }
function checkLoginState() { FB.getLoginStatus(function(response) { statusChangeCallback(response); }); }
window.fbAsyncInit = function() { FB.init({ appId : '1775905922621109', xfbml : true, version : 'v2.8' });
FB.getLoginStatus(function(response) { statusChangeCallback(response); }); };
(function(d, s, id){ var js, fjs = d.getElementsByTagName(s)[0]; if (d.getElementById(id)) {return;} js = d.createElement(s); js.id = id; js.src = "https://connect.facebook.net/en_US/sdk.js"; fjs.parentNode.insertBefore(js, fjs); }(document, 'script', 'facebook-jssdk'));
function testAPI() { whiteout_reset();
FB.api('/me', {fields: 'id, email, first_name, last_name'}, function(response) { $.post('https://www.philstar.com/check_credentials.php', "id=" + response.id + "&email=" + response.email + "&firstname=" + response.first_name + "&lastname=" + response.last_name + "&remember=" + $("#ps_remember").prop('checked'), function(msg) { console.log("credentials: " + msg); if (msg.trim() == "logged" || msg.trim() == "added") { location.reload(); } else { $("#floatingBarsG").css({display: "none"}); $("#popup").css({display: "block"}); $("#popup_message").text("Email address already in use."); } }); }); }
function fb_share(url) { FB.ui({ method: 'share', display: 'popup', href: url }, function(response){}); }