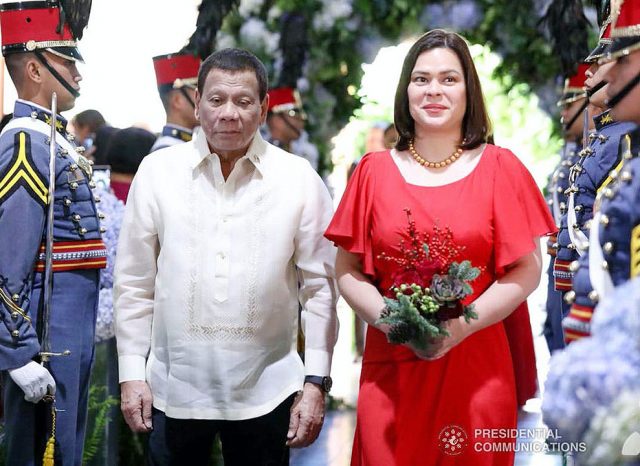 VOTER preference for Davao City Mayor Sara Duterte-Carpio and her father President Rodrigo R. Duterte in the 2022 elections declined in the latest poll by Pulse Asia Research, Inc.
Support for Ms. Carpio's potential presidential bid fell by eight points to 20% in September, while for Mr. Duterte's vice-presidential bid decreased by four points to 14%.
Ms. Carpio, who is believed to be seeking the presidency next year, remained the top bet, with 20% of Filipinos expressing support for her. Her father, who flip-flopped in his 2016 presidential candidacy, has said he would run for vice-president.
"For voters, the fact that both of them are running is a bit too much," Jean Encinas-Franco, a political science professor at the University of the Philippines, said by telephone.
She said declining support for Mr. Duterte's vice-presidential ambition was expected. "Voters find it too much for him to run for vice-president."
A Social Weather Stations poll in June showed that six of 10 Filipinos thought Mr. Duterte's vice-presidential run would be illegal.
Controversies faced by the Duterte administration including alleged anomalies in its pandemic response had likely contributed to the decline in support for her daughter, said Cleve V. Arguelles, a political science lecturer from De La Salle University.
"A potential Duterte-Duterte tandem worries our voters," he said in a Facebook Messenger chat. "The Duterte name has always been part of the appeal of Mayor Sara but it may become a liability for his candidacy if the Duterte administration continues to face controversies."
Ms. Carpio was followed by Senator Ferdinand "Bongbong" R. Marcos, with 15% of Filipinos saying they would choose him as their President.
The son of the late dictator virtually tied with Manila City Mayor Francisco "Isko" Domagoso (13%) and Senator and boxing champion Emmanuel "Manny" D. Pacquiao (12%). 
They were followed by Senator Grace Poe-Llamanzares (9%), Vice-President Maria Leonor "Leni" G. Robredo (8%), Senator Panfilo M. Lacson (6%), Senator Alan Peter S. Cayetano (4%) and Senator Christopher Lawrence T. Go (3%).
Senate President Vicente C. Sotto III was the top pick for vice-president, with 25% of Filipinos supporting him.
He was followed by Mr. Duterte (14%), Mr. Domagoso (12%), Mr. Marcos (12%), Mr. Pacquiao (7%) and Mr. Go (7%).
Politicians will be filing their certificates of candidacy from Oct 1 to 8. Mr. Lacson was the first to announce his presidential ambition, with Mr. Sotto as his running mate. — Kyle Aristophere T Atienza