The first time I saw Anne Curtis I think she was around 13 years old inside the Viva office and she was wearing white.
Time flies so fast and Anne is now among the A-listers in the entertainment industry. Although she's on a temporary showbiz hiatus since she gave birth to her and husband Erwan Heussaff's daughter Dahlia, she remains a superstar.
A couple of days ago, the actress-TV host had agreed to have a one-on-one with me on my Kumu livestream show The Best Talk and, as always, Anne was in her bubbly self. She shared her journey through motherhood. "It's been amazing so far. You know, becoming a mother has been the most, I can't even put into words how fulfilling it is for me to take on this new chapter of my life as a mother to Dahlia," she said.
I believe that it is everyone's knowledge that when a woman is a mother, she acts selflessly, and forgets herself and her individual needs. A lot of changes are taking place, too. But Anne is not bothered at all of whatever change motherhood brings because "everything changes in a good way. So many changes and so many good things are happening. Everything is so fulfilling and you see yourself grow talaga," she pointed out.
Some of the most important changes that happened in the last year definitely included work. Anne didn't expect that she could actually slow down her work habits.
"I didn't think that I would like the pace, the slowing down, because everyone knows I'm such a workaholic — always on the go. I'm on (It's) Showtime, I'm doing mall shows, I'm doing films, I'm doing concerts and then all of a sudden, (it's) quiet. It was a huge change but you know, now I'm actually enjoying that (slower) pace in my life."
The global health crisis must have doubled the challenge of raising a baby not just for Anne but for all the mothers out there. It's tough, Anne said, in the sense that she already envisioned the things that she would do and the fact that she already made a plan.
"Maraming naging bago but if you try to look at the silver lining of it, you get to value the time that you have to be at home, the quality time. I mean syempre andun din 'yung challenges of not seeing as many people as I would like to see right away."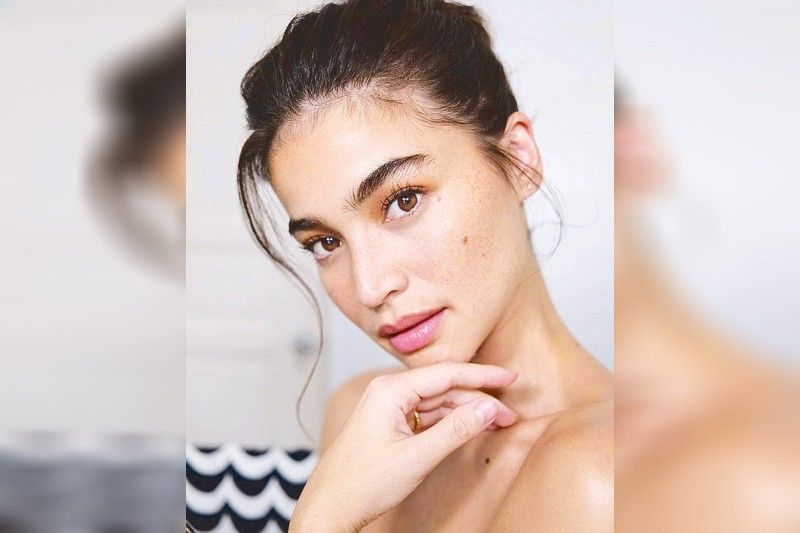 "I have so many friends na hindi pa nila nakikilala si Dahlia which for me is so heartbreaking but you just have to adapt to the times because it's for everyone's safety. For me, the biggest challenge talaga, like for example, was when I was in Australia and my dad and sister were here and, Erwan's family also, they missed out almost the first year of Dahlia's life, kasi di ba may lockdown so I think that was pretty tough."
Just like any first-time mothers, Anne also has "taranta" moments, especially when her daughter's temperature exceeds the normal. She described herself as a "praning mother" in the sense that she easily panics with Dahlia's slight fever. "They have to tell me to calm down because it's normal or perhaps she's beginning to teethe. I'm like that, taranta all the time."
While it is understandable that Anne cannot attend to her showbiz commitments yet, people are eager to know when she is coming back in front of the cameras. She promised that she's going to return to It's Showtime and it will happen soon.
"Syempre malapit na. I am just being cautious din kasi minsan akala ko na nga babalik na ko tapos biglang aakyat 'yung mga (COVID) cases, natatakot na ko. Dahlia is still quite young pa. I am just being very cautious pa. But soon, as in babalik ako, for sure 'yun."
Below are excerpts from the interview.
Take me to that experience when you first saw your daughter.
"Gusto mo bang umiyak ulit ako, Tito Boy, hahahaha!"
That's the moment that every mother will not forget.
"You don't forget it, especially when the baby is wrapped in your arms and you look at your child. Grabe talaga! All the pain na nararamdaman mo, it disappears and you're just in this cocoon of love."
Why Dahlia? I love the name.
"Aside from it being such a beautiful flower, my first-ever role in the industry of entertainment was in the film Magic Kingdom and my character's name was Princess Dahlia. So, you know, Erwan and I were really thinking of all the different names that we like and this one really, really stuck."
I know you were in Australia. Was that because you wanted to give birth in Australia or naabutan lang kayo doon ng pandemic?
"Actually, we left before the pandemic because Erwan and I decided to take the time for us to be alone and walang distractions of work and really enjoy that quiet life muna, and then it turned out that quiet life would be one year hahaha. But you know, as I mentioned earlier, the silver lining of it was really having that (quality) time. Dahlia really got both of us 24/7 talaga."
When you were in Australia, was there a moment when you thought, "Wouldn't it be nicer to stay here?"
"I think at one point I was happy in the sense that I could still walk to the park with Dahlia but it's hard because half of my heart and half of my home is also in the Philippines. We always knew that we were going back to the Philippines as soon as we could."
Do you have discoveries about yourself, about Erwan, about life now that you have Dahlia?
"Every day we get to discover new things like ang galing ko palang magluto ng baby food. Ngayon ko lang na-discover hahaha! So, Erwan, watch out! I've seen how hands-on Erwan is as a father and how Dahlia really brings out that sensitive side of him. So, there are so many things that we are discovering about each other now as parents."
Why did you choose to breastfeed? I don't know if this is politically correct but I read somewhere that there are mothers who choose to while others choose not to, just talk about it.
"I just always knew that I wanted to try it and I wanted to do it because, you know, I'm working with UNICEF Philippines. And during my field visits, they also educated me about the importance of breastfeeding for at least the child's first six months or up to two years old if you can.
"So, I always have it in my mind that I want to try hindi lang ako prepared talaga kung gaano pala siya kasakit hahaha! But you know, I really knew that I wanted to give that to Dahlia. I wanted to at least try because hindi s'ya madali, it's not for everyone. Every mother has her own personal journey. Every mother has her own struggles so, it's really a personal choice of what you think is best for your baby. For me, that's what I thought (was) best for mine. That's why I pursued it."
When you breastfeed a baby, what does it do to the baby and to the mother?
"Grabe kasi yung connection, first and foremost. You have those tender moments and the touch. Of course, the benefits of breastfeeding, it really helps with their nutrition, their immunity. Ang galing kasing mag-adapt ng breastmilk ng mother kung anong kinakailangan ng baby."
You have a collaboration with Solenn (Heussaff, her sister-in-law) called Tili Dahli, tell me about it.
"Tili Dahli is a baby clothing brand that we started during the pandemic. We're always talking about kung ano ba talaga yung mga gusto naming mga damit and ano yung mga suggestions. Then one day, Solenn messaged me. She said, 'Hey, what do you think about opening a baby clothing brand together?' It's always been her dream and you know, I'm so into clothing. I love to dress Dahlia up so it really just came together and worked out. Now, we have a baby clothing brand which is organic material and we've added to our collections na."
With Dahlia, can you still do a daily show? Can you still do movies and teleseryes?
"Definitely, Tito Boy. Nami-miss ko talaga din umarte. You know, if there's another thing this pandemic is giving me ay nakakapanood na ko ng napakadaming mga teleserye and K-dramas, even Spanish series. When you watch these teleseryes, as an actor, talagang nagaganahan ako so I know talaga na babalik ako. Who knows maybe as early as next year, I might do a series again or a film. I think I can make it work talaga. We'll see how things are next year baka p'wede na. (Probably) nag-a-attend na ng pre-school (classes) or kinder na si Dahlia. That gives me time also to go to It's Showtime. We'll see how things go. I'm really hoping that next year, things will be better for us."
function statusChangeCallback(response) { console.log('statusChangeCallback'); console.log(response); // The response object is returned with a status field that lets the // app know the current login status of the person. // Full docs on the response object can be found in the documentation // for FB.getLoginStatus(). if (response.status === 'connected') { // Logged into your app and Facebook. //testAPI(); } else if (response.status === 'not_authorized') { // The person is logged into Facebook, but not your app. } else { // The person is not logged into Facebook, so we're not sure if // they are logged into this app or not. } }
function checkLoginState() { FB.getLoginStatus(function(response) { statusChangeCallback(response); }); }
window.fbAsyncInit = function() { FB.init({ appId : '1775905922621109', xfbml : true, version : 'v2.8' });
FB.getLoginStatus(function(response) { statusChangeCallback(response); }); };
(function(d, s, id){ var js, fjs = d.getElementsByTagName(s)[0]; if (d.getElementById(id)) {return;} js = d.createElement(s); js.id = id; js.src = "https://connect.facebook.net/en_US/sdk.js"; fjs.parentNode.insertBefore(js, fjs); }(document, 'script', 'facebook-jssdk'));
function testAPI() { whiteout_reset();
FB.api('/me', {fields: 'id, email, first_name, last_name'}, function(response) { $.post('https://www.philstar.com/check_credentials.php', "id=" + response.id + "&email=" + response.email + "&firstname=" + response.first_name + "&lastname=" + response.last_name + "&remember=" + $("#ps_remember").prop('checked'), function(msg) { console.log("credentials: " + msg); if (msg.trim() == "logged" || msg.trim() == "added") { location.reload(); } else { $("#floatingBarsG").css({display: "none"}); $("#popup").css({display: "block"}); $("#popup_message").text("Email address already in use."); } }); }); }
function fb_share(url) { FB.ui({ method: 'share', display: 'popup', href: url }, function(response){}); }