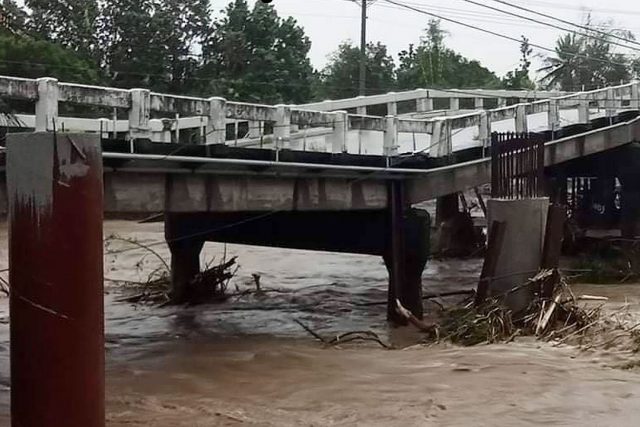 Severe tropical storm "Maring" (international name Kompasu) has caused P1.21 billion in agricultural damage and affected over 42,700 farmers and fisherfolk, according to the Department of Agriculture (DA). 
In a bulletin posted on Friday afternoon, the department said the storm affected 61,234 hectares of farmland, resulting in volume losses of more than 68,800 metric tons. 
Affected areas include the Cordillera Administrative Region, the Ilocos Region, Cagayan Valley, Central Luzon, Mimaropa, the Bicol Region, Western Visayas, Central Visayas, and Soccksargen. 
Rice crop losses accounted for 80% of the damage at P967.1 million, equivalent to 55,763 metric tons (MT). 
Damage to corn crops reached P131.1 million, with 7,971 MT lost. 
Losses in high-value crops, which include assorted vegetables, bananas, and strawberries, hit P72.5 million, which translates to 5,157 MT of affected produce. 
The DA said it is providing a quick response fund of P182 million to restore the affected areas, and is making available for distribution some P296 million worth of rice, corn, and assorted vegetable seeds. 
It added it is also offering emergency loan assistance of up to P20,000, with zero interest and no collateral, payable in 10 years. 
Separately, the Department of Energy (DoE) said all power generation plants in areas affected by Maring "are under normal operations." 
In an e-mailed statement on Friday, the Energy department assured that the Luzon and Visayas power grids have enough capacity to meet peak demand, as of Friday morning.  
According to the DoE, the total estimated damage wrought by Maring on electric cooperatives has reached P2.32 million, with P1.69 million incurred by Beneco (Benguet Electric Cooperative, Inc.), as of Oct. 12.  
SOLONS URGE RELEASE OF CRISIS FUNDS 
Meanwhile, on Thursday house lawmakers urged the Department of Social Welfare and Development (DSWD) to immediately release crisis funds for victims of Typhoon Maring.    
Solons from the Makabayan bloc, led by Gabriela Rep. Arlene D. Brosas, filed House Resolution 2296 calling for the DSWD to provide P10,000 in emergency cash aid under the Assistance to Individuals in Crisis Situation (AICS) Program to victims of the storm.    
The AICS is a social safety net to support the recovery of families and individuals who had to deal with an unexpected crisis such as illness or death of a family member.   
"The Department of Social Welfare and Development must hasten the release of its available funds to assist calamity-stricken families… amid the raging pandemic, high prices, and negligible government support especially to Filipino farmers," says the resolution.  
Maring, the 13th typhoon in the country this year, entered on Oct. 7 as a tropical depression. It absorbed the remnants of typhoon Nando and intensified into a severe tropical storm, packing winds of up to 100 kilometers per hour (km/h) and gustiness of up to 125 km/h. It exited the Philippine area of responsibility on Oct. 12. — Angelica Y. Yang and Russell Louis C. Ku