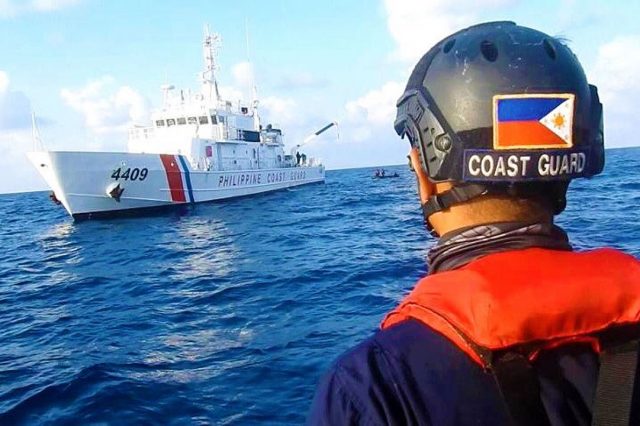 THE PHILIPPINES should take a more determined stance while forging stronger ties with foreign allies to assert its claim in the disputed South China Sea, an analyst said as China's Ministry of Foreign Affairs again brushed off last week the country's protests against its "threats" and "provocation." 
"Silence on our part means that the Philippines had accepted China's de facto control of the South China Sea," Renato C. de Castro, international studies professor at the De La Salle University, told BusinessWorld via Viber on Saturday.  
"We should continue filing diplomatic protests."  
China maintains that it owns most of the disputed waters and has been abiding by international laws.   
"China's position on the South China Sea issue is consistent and clear, and our maritime law enforcement departments has followed the UNCLOS (United Nations Convention on the Law of the Sea) and other international law to have operations that defend our rights," Wang Wenbin, a Chinese spokesman, said during a Beijing news briefing Thursday.   
"That is legitimate and justified." 
The Department of Foreign Affairs (DFA) on Wednesday noted on Twitter that over 200 radio challenges, sounding of sirens, and blowing of horns have been made by Chinese government vessels against Philippine authorities conducting legitimate and routine patrols over and around its territory and maritime zones.  
DFA described China's acts as "provocative" that not only threatened the peace and security of the South China Sea but also ran contrary to China's obligations under international law.  
"There have been 211 notes verbale issued since 2016, majority of which (153) were filed in 2021," said DFA Assistant Secretary Eduardo Martin R. Meñez on Thursday via WhatsApp, noting that the Philippines' latest protest was on Sept. 30.  
Of the 153 filed this year, China officially acknowledged and responded to 151 complaints, but has not stopped activities in the Philippines' exclusive zone that has been confirmed by an international arbitration court ruling in 2016.  
Mr. Renato also recommended that the Philippines join other navies for joint patrols and Freedom of Navigation operations.  
Australia, the United Kingdom, and the United States announced a security pact in September to strengthen presence in the Indo-Pacific region.   
Mr. Renato said the next Philippine leader who will be elected in the May 2022 polls must veer away from President Rodrigo R. Duterte's defeatist approach.  
"We cannot afford an administration that will adopt a policy of appeasement again in the next six years," he said. "We need a leader who can stand on the ground without being violent."  
Mr. Renato also disagreed with presidential candidates planning to undertake joint development projects with the Chinese.  
"The Chinese will use this to trap you. If you become economically dependent on the Chinese, it will hold you by the neck, so let's never fall for that," he said in English and Filipino. — Alyssa Nicole O. Tan