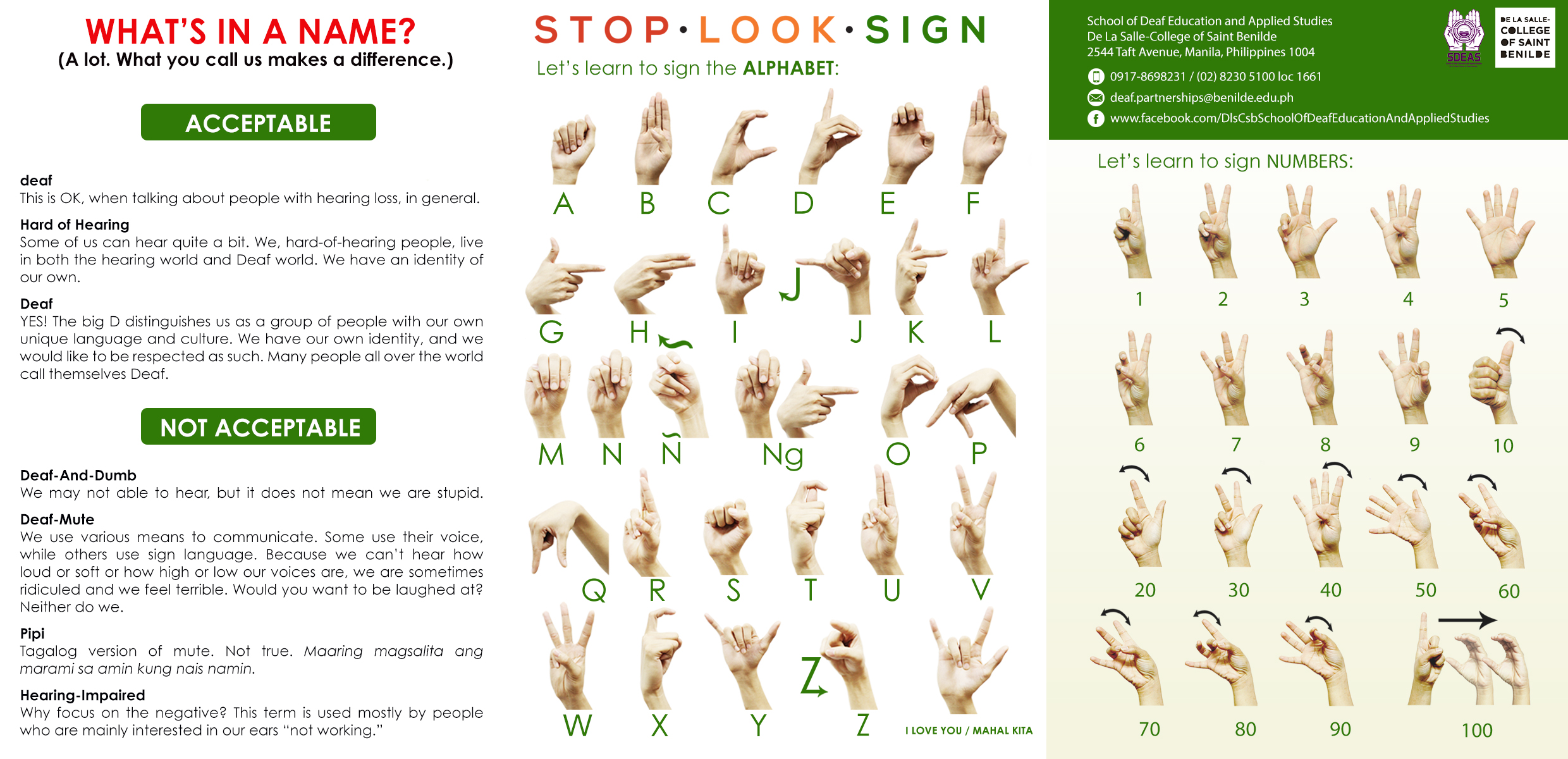 By Bronte H. Lacsamana 
The virtual space is very restrictive, writes college student Arianne Micaela A. Bulaong.    
For her and her friends, the limitations of chat and video calls keep them from fully expressing themselves. No number of pixels on a screen can capture the way their faces contort and the lively manner with which they use their hands to tell a story. Most may be intrigued or puzzled by their abrupt movements and unfiltered looks that include drawn eyebrows, pouting lips, and the like — but that's just how they communicate.    
"I am Deaf and I use sign language to interact with others," said Ms. Bulaong in an interview with BusinessWorld via e-mail, where she bared her feelings about remote learning during the pandemic. "Since I can't move much or use body language and facial expressions, I cannot fully and freely express myself online."    
(The College of Saint Benilde's School of Deaf Education and Applied Studies, or SDEAS, the tertiary-level school where Ms. Bulaong studies, explains that Deaf is spelled with a capital "D," to distinguish them as people with their own language and culture.)  
Filipino sign language (FSL), a visual language which has grammar and syntax just like any spoken or written language, is used by the Filipino Deaf community. In 2018, it was declared the country's national sign language through Republic Act No. 11106.  
Unfortunately, because the coronavirus pandemic has kept Filipino students home for over a year, the full extent of FSL has been reduced to what's visible on a computer or mobile screen. This has been a blow to Deaf students everywhere, their learning experiences have changed just as drastically or maybe even more so than their hearing peers.    
"We teach FSL and written language bilingual lectures during the synchronous sessions via Zoom, which has Deaf-friendly features," said Ana Kristina M. Arce, Chairperson of SDEAS' Bachelor in Applied Deaf Studies Program, via e-mail. "Deaf learners then study in their own time to view FSL videos and read written texts of all learning materials and instructions in their online courses during the asynchronous sessions via the learning management system called BigSky."    
With these digital tools, schools for the Deaf like SDEAS aim to provide appropriate online delivery courses, she added. However, such a set-up gives rise to issues of internet connectivity, varying levels of student engagement, and even mental health.  
HUMANIZING ONLINE CLASSES
The Filipino youth's mental distress has been a cause for concern due to the on-and-off lockdowns that have prevented the return of in-person classes. In August, the United Nations Children's Fund (UNICEF) counted the Philippines as among just five countries that haven't reopened schools since 2020, affecting over 27 million Filipino students.    
President Rodrigo R. Duterte only approved a pilot test of limited in-person classes in September, in areas with a low number of coronavirus cases.  
"I do experience stress and slight mental breakdowns," said Ms. Bulaong, who admitted that she missed learning face-to-face. "It was challenging for me to do online classes at home but education does not stop us from learning. It really tested my patience and optimism to study well."    
She said that her family was usually helpful when she encountered difficulties with her studies despite all of them being busy learning or working from home, but this may not be the case for all Deaf students.    
SDEAS Chairperson Ms. Arce, a Deaf person herself who has been teaching Deaf studies for eight years, explained the importance of humanizing online classes: "Many experience loneliness while staying at home. Most parents don't know how to communicate as they are not fluent in FSL. Sometimes, they just use gestures."  
To address this, SDEAS provides a Deaf Awareness and FSL program for hearing parents, to help the parents and the Deaf child understand each other better. For the students' personal mental health, the school organizes online extracurricular activities.    
INCLUSIVE EDUCATION
The Department of Education (DepEd) revealed in July that only 51,375 learners with disabilities (LWDs) enrolled in special classes this year, a significant drop from 2018 when 231,631 LWDs were enrolled.  
Though the department is currently working with various Deaf organizations to foster more inclusive education for Deaf students and other LWDs, there is much work to do.  
One challenge would be resource videos, said Ms. Arce. Learning materials often use audio without any subtitles. Deaf schools and educators have a hard time finding subtitled videos for their students.    
"Deaf community members [in the Philippines] have been advocating for FSL education. FSL modules are not sufficient or available in schools due to transitioning to the online classes," she said, adding that both Deaf and hearing educators must work together to develop more modules that will be inclusive for all.    
On the difficulties faced by Deaf students, SDEAS student Ms. Bulaong said: "We need strength to cope with the situations happening in this world and doing the online classes. It is overwhelming for us. Help us when we are struggling and comfort us when we feel discouraged. Listen when we want to express our thoughts and feelings."

LEARN THE LANGUAGE
Deaf people have but a simple request, according to her — that hearing Filipinos take a step to get to know them and their culture.

The best way to do this would be to enroll in formal classes, like Benilde's FSL Learning Program, in order to learn to properly communicate with the Deaf.     
A mobile application called FSL Buddy, developed by Benilde in cooperation with Accenture Philippines, also exists as a guide for those who want to explore FSL on their own time.

First released in 2018, the app offers over 200 FSL signs from various word categories, visual-gestural communication lessons, and sensitivity and awareness orientation. Its second and latest version is currently in development and will soon be launched in leading app stores, adding frequently requested signs and phrases based on initial feedback.

"It may be hard at first, but it is fun to learn our sign language," said Ms. Bulaong. "We will be happy to see them willing to start and [be] open to learning about Deaf culture."  
Benilde-SDEAS is currently accepting Deaf and hard-of-hearing applicants for the 1st term (late August to early December) of the Academic Year 2022-2023.