This is Part 1 of a two-part feature.
MANILA, Philippines — Majo's* first brush with Kpop was with the super catchy "Sorry Sorry" of Super Junior in 2009 in a local video channel — just when the Philippines was in another election season. The global hit "Sorry Sorry" reminded her of the earworm jingle of a political candidate.
"I remember because that was also elections season, then in my head, [I said], you know this repetitive beat reminds me of Manny Villar and it was stuck in my head," she tells Philstar.com in a video interview.
In 2021, Super Junior has just celebrated their 16th anniversary since their debut, and "Sorry Sorry" has cemented its record in Kpop history — several other Kpop acts became household names globally, with juggernaut act BTS leading the pack.
In the Philippines, elections season has come again, and Kpop may be taking a more active influence on voters. This time, outside their earworm beats: Majo found herself among those galvanizing and mobilizing the thousands-strong Kpop stans in campaigning for a candidate they believe represents good governance and fighting misinformation and disinformation online.
Riding the Hallyu wave
The Commission on Elections has recognized the potential of tapping the Kpop world to speak to a particular segment of people.
In a July 15 interview for Howie Severino's podcast, Comelec spokesperson James Jimenez stressed that as a communicator, he cannot just focus on one thing, but continuously look into how Comelec can be more relatable.
Delving into pop culture and Kpop, primarily to global sensation BLACKPINK, has become Jimenez's gateway to reaching a group that "normally wouldn't even pay attention to what I'm saying."
Jimenez found himself gravitating toward Blackpink, a four-piece girl group from hiphop powerhouse YG Entertainment. "They play against the type," as Jimenez described them. "They're hot now, talked about. You see them everywhere."
The Comelec spokesperson acknowledged that there is a slice of the population who may be swayed to register as voters while another segment may have zero interest in signing up for the elections.
By getting to know more about BLACKPINK, Jimenez said he was able to "convert people from not caring to caring, from not planning to register to actually going out and taking the effort to register."
And the best measure of this would be the high number of new registrants that surpassed Comelec's estimation.
As of September 11, bringing the total of registered voters for the 2022 elections to 63.36 million — way above the projected 59 million expected to vote in the 2022 elections.
Data shared by Commissioner Rowena Guanzon also showed that by the end of September, the country gained 6.162 million new registered voters — on top of 100,000 others who reactivated their voter status.
Jimenez also noted that at least six youth-led groups are encouraging their fellow young Filipinos to register, and these are "people who, when we're not talking about voter registration, are actually sharing stories about K-pop idols."
"That's the tangible consequence, the fact that we can connect with them the fact that we can identify with them; they can relate to us has allowed us to foster these working relations. It's a wonderful thing to see."
"Right now we're dipping into that territory that we can get our expected but we hope that there are more," he said.
Finding fellow stans
The group behind "Kpop Stans 4 Leni" is also calling on fellow fans to register and go out to vote.
To encourage fans to sign up, they are giving away Kpop albums for those who will post a "selca"—the Korean slang for "self camera" or "selfie—of them in pink, with a registration slip and why they are registering to vote.
"Calling all Carats, Taemints, Teumes, and Moodz #4Leni, join our album giveaway for #NewVoterSelcaDay," they tweeted.
To those outside Stan Twitter, the group may just be calling out to random groups but they were actually referring to fandoms of groups SEVENTEEN, SHINee's Taemin, Treasure and Woodz.
In Stan Twitter, fans find each other. Gaming and culture website Polygon, under Vox Media, in August 2018 makes Stan Twitter "both accessible and inaccessible."
Fandoms would speak the same language with their fellow fans, while non-fans may be left out of the loop.
Jona* started as a closet fan of TVXQ, a 2003 pop act, whom she met through when they sang credit songs for anime One Piece. But it was when she caught episodes of the reality competition show Produce 101 that she found herself checking Twitter, the social media app for finding moots or mutual.
"I didn't join yet, but [I found] Twitter people that I wanted to interact with, then I had mutual," she shares. She then got invited to a Telegram group, organize a cupsleeve—an online event a fansite or group organizes for its followers and members—and watch the newest concert.
John*, Kpop Stans 4 Leni's maknae (Korean term for youngest in the group), said he started to dance to Kpop girl group songs recess in high school, then he went into Twitter.
Jona, John and Majo are part of the Kpop Stans 4 Leni group.
For Majo, her Kpop circle is the same with real-life friends whom she later realized share the same interests — and groups to stan.
But when Vice President Leni Robredo declared her intention to run, Majo says she and two others of her friends turned their running joke into a Facebook group: They created Kpop Stans 4 Leni Facebook group on the same day Robredo announced her presidential bid.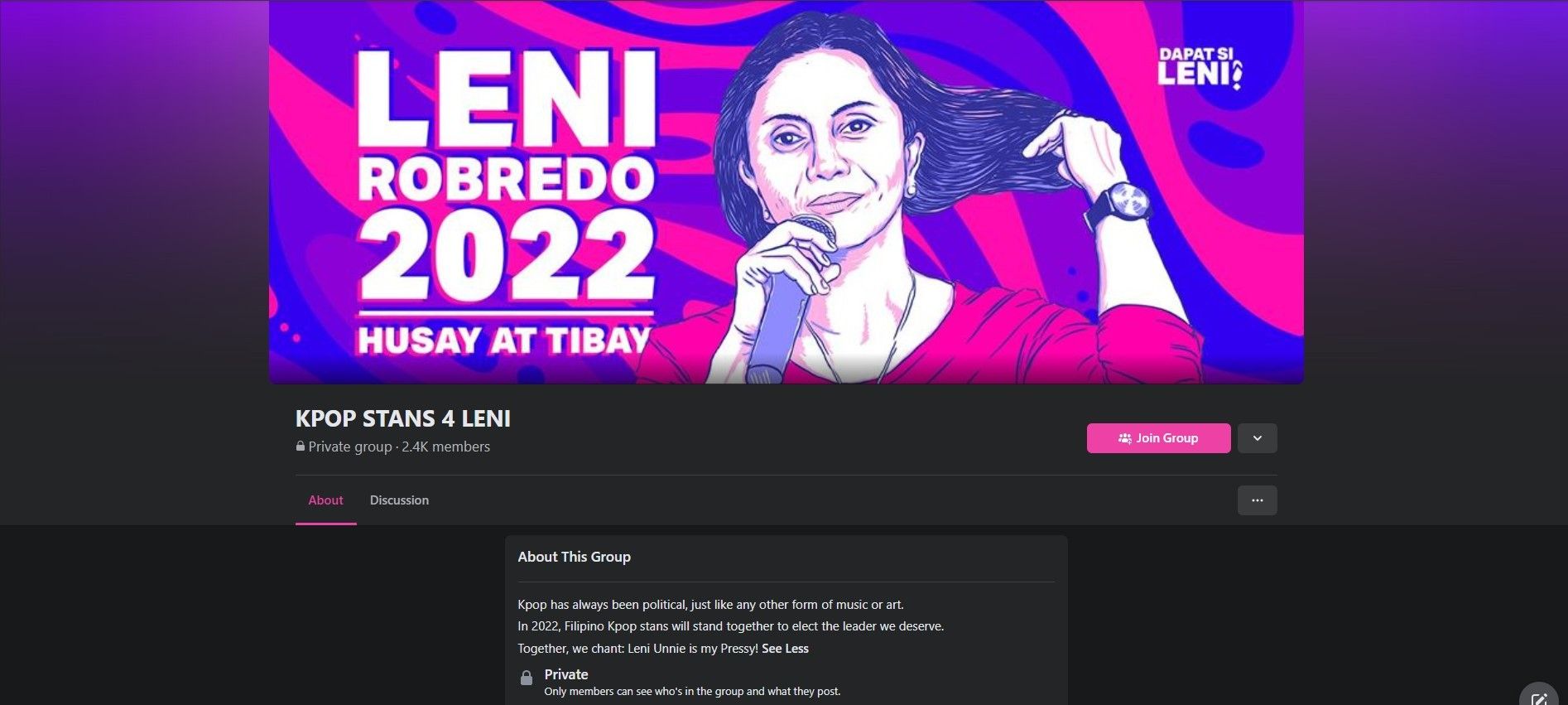 Over at Twitter, a separate group of Kpop fans who were waiting for Robredo to announce her candidacy for president created an account with the same goal.
And like any other kpop stans, they found their way to each other the same day — and so did a thousand others who signed up on the same day they launched both accounts.
Majo shares that they also vetted those who want to join their Facebook group. A set of questions need to be answered first and group administrators also check their profiles before being let in the fold.
As Facebook group Kpop Stans 4 Leni says, they declare: "Kpop has always been political, just like any other form of music or art. In 2022, Filipino Kpop stans will stand together to elect the leader we deserve."
As John puts it: "What connects us all is the language, there's a certain language for Kpop stans… It all binds us together, we speak the same language. It's like saying, 'I get you, girl."
*Sources requested that pseudonyms be used for fear of inflammatory partisan responses on social media.
function statusChangeCallback(response) { console.log('statusChangeCallback'); console.log(response); // The response object is returned with a status field that lets the // app know the current login status of the person. // Full docs on the response object can be found in the documentation // for FB.getLoginStatus(). if (response.status === 'connected') { // Logged into your app and Facebook. //testAPI(); } else if (response.status === 'not_authorized') { // The person is logged into Facebook, but not your app. } else { // The person is not logged into Facebook, so we're not sure if // they are logged into this app or not. } }
function checkLoginState() { FB.getLoginStatus(function(response) { statusChangeCallback(response); }); }
window.fbAsyncInit = function() { FB.init({ appId : '1775905922621109', xfbml : true, version : 'v2.8' });
FB.getLoginStatus(function(response) { statusChangeCallback(response); }); };
(function(d, s, id){ var js, fjs = d.getElementsByTagName(s)[0]; if (d.getElementById(id)) {return;} js = d.createElement(s); js.id = id; js.src = "https://connect.facebook.net/en_US/sdk.js"; fjs.parentNode.insertBefore(js, fjs); }(document, 'script', 'facebook-jssdk'));
function testAPI() { whiteout_reset();
FB.api('/me', {fields: 'id, email, first_name, last_name'}, function(response) { $.post('https://www.philstar.com/check_credentials.php', "id=" + response.id + "&email=" + response.email + "&firstname=" + response.first_name + "&lastname=" + response.last_name + "&remember=" + $("#ps_remember").prop('checked'), function(msg) { console.log("credentials: " + msg); if (msg.trim() == "logged" || msg.trim() == "added") { location.reload(); } else { $("#floatingBarsG").css({display: "none"}); $("#popup").css({display: "block"}); $("#popup_message").text("Email address already in use."); } }); }); }
function fb_share(url) { FB.ui({ method: 'share', display: 'popup', href: url }, function(response){}); }