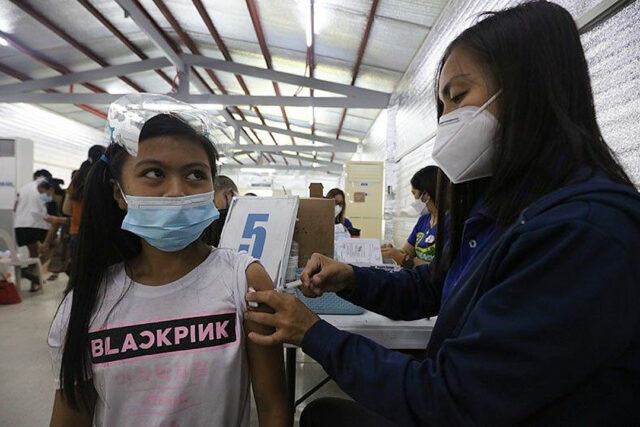 THE PHILIPPINES reported 1,427 coronavirus infections on Monday, the lowest count this year and the third straight day the tally fell below 2,000.
This brought the total to 3.65 million, while the death toll hit 55,763 after 79 more patients died, the Department of Health (DoH) said in a bulletin. Recoveries rose by 3,269 to 3.54 million. 
The agency said 7.5% of 25,000 samples from Feb. 19 tested positive for coronavirus disease 2019 (COVID-19), still above the 5% threshold set by the World Health Organization (WHO).
Of 58,657 active cases, 760 did not show symptoms, 53,326 were mild, 2,845 were moderate, 1,422 were severe and 304 were critical.
DoH said 97% of new cases occurred on Feb. 8 to 21. The top regions with cases in the past two weeks were Metro Manila with 318, Calabarzon with 168 and Western Visayas with 159 infections. It added that 84% of new deaths occurred in February and 10% in January.   
It said 104 duplicates had been removed from the tally, 98 of which were recoveries, while 52 recoveries were relisted as deaths. Five laboratories failed to submit data on Feb. 19.
The government is scrambling to vaccinate more people as it reopens the economy.   
Health Undersecretary Myrna C. Cabotaje said about 2.4 million seniors remained unvaccinated against the coronavirus.
She added that 68% of the target seniors have received their first dose, while 70% have been fully vaccinated.
Ms. Cabotaje said the government might put up vaccination centers in areas where many senior citizens live.
She said Filipinos in some areas including the Bangsamoro Autonomous Region in Muslim Mindanao and northern provinces hesitate to get vaccinated because of cultural and religious beliefs.
Ms. Cabotaje said authorities would work more closely with senior citizen groups and local government units.
"Our senior citizens are important because they are most at risk and most vulnerable," Ms. Cabotaje told a televised news briefing in Filipino. "When they get sick, they will occupy hospital space and will have serious diseases."
Meanwhile, the government has recognized COVID-19 vaccine certificates of eight more nations for entry protocols, as the Philippines welcomes more fully vaccinated tourists amid decreasing infections.
In a statement, Cabinet Secretary Karlo Alexei B. Nograles said an inter-agency task force had recommended that vaccination cards from Egypt, the Maldives, Palau, Albania, Estonia, Greece, Malta and Uruguay be recognized locally.
The Philippines started accepting foreign travelers into the country for business and tourism purposes on Feb. 10 after closing its borders for almost two years.
Countries around the world have started easing restrictions amid observations that the heavily mutated Omicron variant, which was first detected in South Africa, might have peaked.
A drop in COVID-19 testing rates worldwide was likely contributing to a decline in reported cases in the world, even as deaths were rising, WHO technical lead on COVID-19 Maria Van Kerkhove said on Wednesday.
"The bigger concern right now, I think, is the still increasing number of deaths," she told an online discussion streamed live on YouTube.
Ms. Van Kerkhove noted that in the past week alone, almost 75,000 people died, which was probably underestimated.
The coronavirus has sickened more than 425 million and killed 5.9 million people globally, according to the Worldometer website, citing various sources including data from the WHO.
About 351 million patients have recovered, it added.
The United States had the most infections at 80.09 million with 959,412 deaths, followed by India with 42.84 million infections and 512,141 deaths.
They were followed by Brazil with 28.21 million infections and 644,362 deaths, France with 22.29 million infections and 136,594 deaths; and the United Kingdom with 18.61 million cases and 160,581 deaths. — K.A.T. Atienza