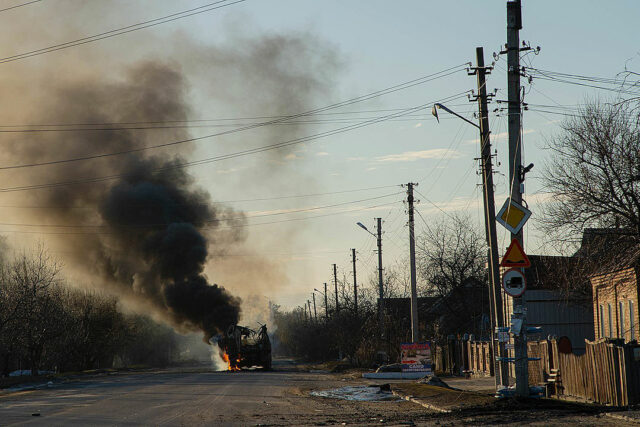 By Kyle Aristophere T. Atienza
and Alyssa Nicole O. Tan, Reporters
SIX presidential candidates on Sunday night said the Philippines should condemn Russia's invasion of Ukraine.
During a debate on CNN Philippines, only three presidential bets agreed with the country's defense chief, who said the government should not take sides.
Vice President Maria Leonor "Leni" G. Robredo, Senators Emmanuel "Manny" D. Pacquiao and Panfilo "Ping" M. Lacson, labor leader Leodegario "Ka Leody" de Guzman, former National Security Adviser Norberto B. Gonzales and lawyer Jose C. Montemayor, Jr. disagreed.
Manila Mayor Francisco "Isko" M. Domagoso, ex-presidential spokesman Ernesto C. Abella and businessman Faisal M. Mangondato agreed with Defense Secretary Delfin N. Lorenzana, who earlier said the Philippines should remain neutral.
Mr. Lacson said the country has an obligation to condemn a foreign aggressor and renounce war as a member of the United Nations (UN).
"We are signatory to Article 1 of the UN Charter," he said in mixed English and Filipino. "We have a say when there is an aggressor. We have the right to condemn what Russia did."
Russia has launched a devastating attack by air, land and sea on Ukraine, a European democracy of 44 million people, and its forces were on the outskirts of the capital, Kyiv. President Vladimir Putin denied for months he would invade his neighbor, but then tore up a peace deal and sent forces across borders in Ukraine's north, east and south.
Mr. Lacson said there is nothing wrong if the country joins peace-loving nations in condemning the Russian invasion.
He also said the government could subsidize essential industries such as oil and agriculture to mitigate the effects of the war.
"When it comes to the oil supply, we'll surely be affected by this," Mr. Robredo told the debates. "We can have fuel subsidy and the automatic suspension of excise tax."
She said the government should also subsidize distribution charges to keep electricity prices low and look for other sources of power now to deal with future energy supply issues.
Mr. de Guzman said that if he becomes president, he would ask Ukraine to take a more neutral stance with both Russia and the United States to avoid another potential war.
The activist said the government should call on both Russia and the North Atlantic Treaty Organization (NATO), a US-led alliance, to stop the conflict.
The labor leader also said the local oil industry should be regulated so that oil companies would be barred from taking advantage of the crisis.
On the other hand, Mr. Domagoso said the Philippines should be neutral on the issue, adding that the government should prioritize local issues.
"We need to be neutral for now because what matters to me are the remaining 180 Filipinos in Ukraine where there are flying bullets," he said in Filipino. "We need to evacuate them to safer countries like Poland."
Civic groups have been urging the government to suspend the excise taxes on fuel products amid surging global oil prices.
Energy Undersecretary Gerardo D. Erguiza, Jr. told a televised news briefing on Monday the bills seeking to change the country's oil deregulation law and suspend the excise taxes on fuel products were pending in Congress.
President Rodrigo R. Duterte had yet to receive reports from the Development Budget Coordination Committee about the measures, his spokesman Karlo Alexei B. Nograles separately told a news briefing.
Mr. Nograles said it is up to the Land Transportation Franchising and Regulatory Board to consider the five-peso fare hike that transport groups are pushing.
Brent crude surged by more than $100 for the first time since 2014 on Feb. 24 after Russia attacked Ukraine, Reuters reported.
Meanwhile, Mr. Duterte's successor should boost the country's maritime security in the South China Sea, political analysts said, noting that Russia's invasion of Ukraine should remind the country of threats to its sovereignty.
More than five dozen Chinese ships remained in disputed areas of the waterway as of Feb. 17, while 39 more had banked near the Union Banks, Simularity Chief Executive Officer Liz Derr told a forum on Monday.
Chinese ships have been mooring near Whitsun Reef, locally known as Julian Felipe Reef, since Dec. 2020, she said, adding that the Philippine government had discovered this only in March last year.
"This delay indicated that improved maritime domain awareness is necessary to monitor the activities of Chinese maritime militia," she said.
She said the Philippines should invest in more advanced radar systems and automated weekly analyses to detect foreign ships before problems occur. Such high-tech equipment could see through clouds and detect ships in poor visibility.
"This solution costs less than half of the fuel cost to run a single patrol ship," Ms. Derr said.
The next administration should come up with a national security strategy based on a 2016 United Nations-backed ruling that voided China's claim to more than 80% of the South China Sea, said Renato C. De Castro, an International Studies professor at De La Salle University.
The Armed Forces should shift its attention from internal to maritime security, he said, adding that the insurgency problem is a political issue that the military could not solve.
The next Philippine president will be entering the third phase of the military's 15-year modernization program, said Richard J. Heydarian, professorial chair on geopolitics at the Polytechnic University. It is time for the country to develop its naval and aerial capabilities and strategic defense assets, he added.
The next government should also consider leveraging Philippine defense agreements because the Ukraine war presents dangers of neutrality when facing aggression from rising powers.
Mr. Heydarian said Russia managed to attack Ukraine because the latter is not a NATO member. "You want to make sure you make the most of your existing insurance policies."
Mr. De Castro said the Philippine should boost its alliance with the US by fully implementing its enhanced defense cooperation agreement. It should also strengthen security partnerships with other US allies such as Japan, Korea and Australia.
The Philippines should also continue to diversify international relations because it is a weak state, said Charmaine M. Misalucha-Willoughby, an International Studies assistant professor at De La Salle University. "It is in our interest to not turn back on multilateralism."
She also said the Philippines should take a stand in Russia's invasion of Ukraine because it has implications on oil and food prices. "We cannot afford to be neutral."