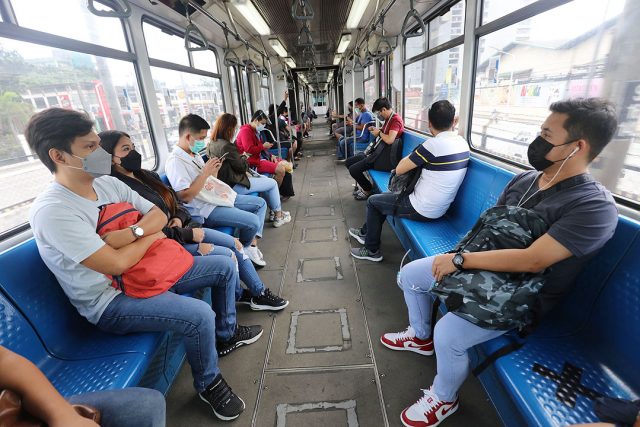 METRO Manila rail companies on Monday said they would operate at 100% passenger capacity starting March 1 after the government lowered the lockdown in the capital region and 38 other areas to Alert Level 1.
"That's about 1,200 passengers per trainset," Light Rail Manila Corp. (LRMC) spokesperson Jacqueline S. Gorospe said by telephone. LRMC is the private operator of LRT-1.
In a separate statement, the Light Rail Transit Authority (LRTA), which operates LRT-2, said it would do the same. LRT-2's capacity per trainset will be 1,470 passengers.
Meanwhile, Metro Rail Transit Line 3's (MRT-3) trainset would accommodate 1,182 passengers starting March 1 from 827 now.
Under the rules released by an inter-agency task force, public transportation in areas under Alert Level 1 will be at full seating capacity.
Public travels between an area with a higher alert level classification and an area under Alert Level 1 will be limited to the capacity of the area at higher risk.
Air, sea and rail public transport in and out of areas under the first alert level will operate at full capacity.
Acrylic or plastic dividers will no longer be required under Alert Level 1. The safe, swift and smart passage or S-PaSS travel management system will also be done away with.
The Philippines posted 951 infections on Monday — the lowest daily tally since Dec. 29 — bringing the total to 3.66 million.
The death toll hit 56,451 after 50 more patients died, while recoveries rose by 1,717 to 3.55 million, it said in a bulletin.
It added that 5% of 22,407 samples from Feb. 26 tested positive for coronavirus disease 2019 (COVID-19), within the World Health Organization's threshold.
However, tests conducted in February were much lower than in January, when the heavily mutated Omicron variant spurred a spike in infections.
Of 52,179 active cases, 528 did not show symptoms, 47,157 were mild, 2,779 were moderate, 1,417 were severe and 298 were critical.
DoH said 94% of new cases occurred on Feb. 15 to 28. The top regions with cases in the past two weeks were Metro Manila with 231, Calabarzon with 136 and Western Visayas with 93 infections. It added that 46% of new deaths occurred in February and 44% in January.
Three duplicates were removed from the tally, one of which was reclassified as a recovery, while 36 recoveries were relisted as deaths. Five laboratories failed to submit data on Feb. 26.
The Philippines has experienced four waves of COVID-19 since 2020. It reported the highest single-day tally on Jan. 15 with 30,004 infections.
Meanwhile, OCTA Research Group fellow Fredegusto P. David said daily infections could fall to 500 by mid-March.
"We are projecting that by tomorrow, March 1, the number of cases nationwide will be fewer than 1,000 and will only be in triple digits," he told a televised news briefing in Filipino. — Kyle Aristophere T. Atienza and Arjay L. Balinbin