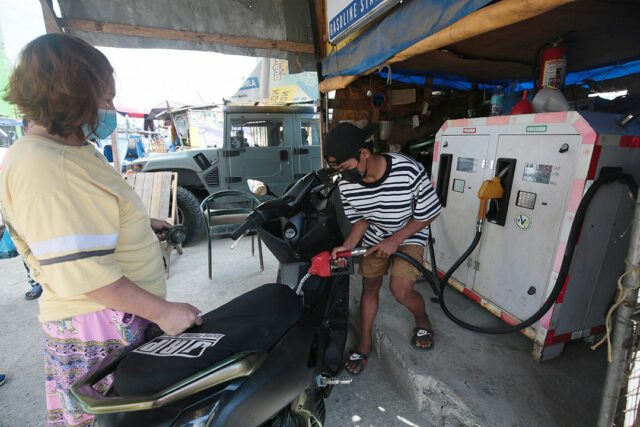 A SENATOR on Wednesday warned against hoarding and overpricing of fuel in the absence of a price ceiling imposition amid skyrocketing prices.
"It is illegal to take advantage of the situation when everyone is practically struggling to recoup whatever losses in savings and income they have incurred in the past two years amid the COVID-19 (coronavirus disease 2019) pandemic," Senate Energy Committee Chair Sherwin T. Gatchalian said in a statement on Monday. 
The senator cited reports of retailers already selling gasoline at P90 to P100 per liter (/L), particularly fuel stations in the provinces. 
Mr. Gatchalian stressed that price manipulation of basic commodities is a violation of Republic Act 7581 or the Price Act, a crime punishable by at least 15 years of imprisonment and a fine of P5,000 to P2 million. 
For the week March 8-14, pump prices are around P64-83/L for gasoline and P58-68/L for diesel, according to the Energy department. Since the start of the year, gasoline, diesel, and kerosene per liter prices have risen by P13.25, P17.50, and P14.40, respectively. 
Energy Secretary Alfredo G. Cusi in a virtual press briefing on Tuesday said fuel should not cost P100/L for now, but it may reach that level depending on world market price.
"It depends on how much it will go up in the world market. Because the Dubai price now is already at $125 dollars per barrel. But the retail and pump price is already breaching P70," he said.
Meanwhile, consumer group Laban Konsyumer, Inc. President Victorio Mario A. Dimagiba said "the arms of the law should be visible" especially in times of crisis.
"(Authorities) should catch and prosecute profiteers immediately, including petrol service station that close or stop selling ahead of their usual business hours. Catch also hoarders [and even] the oil company brand owner in the case," he said in a Viber message.
SUBSIDY
Meanwhile, Marikina Rep. Stella Luz A. Quimbo on Wednesday recommended the suspension of taxes on petroleum products commonly used by low-income classes like liquefied petroleum gas (LPG), kerosene and diesel while partially maintaining tax for gasoline, which is used by those who are more affluent. 
"There is a suspension (of tax) on petroleum products, at the same time, we will also provide a subsidy to those affected by the suspension. So, there is a mix of policy tools," she said in an interview with DZRH.
Ms. Quimbo also welcomed the administration's plan to increase the fuel subsidy allocation in this year's budget to about P6 billion from the approved P2.5 billion. 
"The budget as of now, according to the hearing two days ago, is only P2.5 billion. But that's only enough for around 377,000 PUV (public utility vehicle) drivers," she said in Filipino. 
"That will only be enough for buses and jeepneys. I think there are more than four million tricycles. So, public motorcycles are not part of that. The budget is insufficient. But as of yesterday, I think they (executive branch) said they'll increase it, up to P6 billion." — Marielle C. Lucenio and Jaspearl Emerald G. Tan