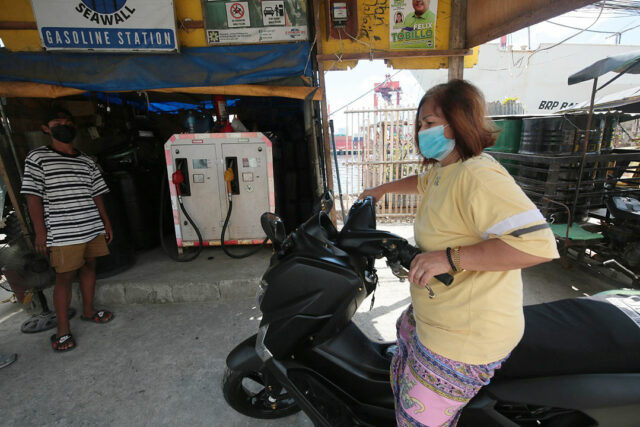 MARIKINA Rep. Stella Luz A. Quimbo said Thursday that she supports the passage of a bill that would suspend taxes imposed on selected petroleum products together with targeted subsidies to provide relief to low-income households and the transportation sector amid rising oil prices. 
"I support House Bill No. 10488, which has been approved on 2nd Reading in the House of Representatives," she said in a statement.  
"This measure decreases tax rates for gasoline from 10 pesos to 7 pesos for fuels above RON (research octane number) 91, and 4.35 pesos for fuels at RON 91 or below. The bill also removes the 6 pesos additional excise tax on diesel. These rates shall remain for as long as the average Dubai crude oil price (MOPS) is above USD65 per barrel," said Ms. Quimbo, an economist.  
She said the government should act quickly as the oil price hikes exacerbated by the Russia-Ukraine conflict are affecting many sectors, especially the transportation.  
"Of course, the first ones who are affected here are those in the transport sector," Ms. Quimbo said in Filipino. "Because the fare is regulated, the drivers of PUVs (public utility vehicles) can't raise them. That's why they're the ones bearing the burden of the higher price of gasoline and diesel."  
The Philippines imports finished oil products from China, South Korea and Japan, which get crude from Russia, according to Energy Secretary Alfonso G. Cusi. 
"Crude oil is used in all products, especially in making them and transporting them to the market. That's why the cost of all goods will be affected eventually," Mr. Quimbo said. 
She cited a study from the Asian Development Bank (ADB) which showed that a 10% price increase in fuel would result in 200,000 more poor families. 
"By reducing tax rates for select oil products, we are able to both provide immediate relief for many Filipinos, especially those belonging to the lower income groups, while keeping inflation in check and still be able to collect significant revenues which can be used for other economic aid and recovery measures," she said. 
"This should be accompanied by targeted subsidies to sectors that continue to be adversely affected by the oil price hike." 
Meanwhile, Deputy Speaker and Bagong Henerasyon Party-list Rep. Bernadette R. Herrera-Dy urged the government's inter-agency budget committee to meet and draw up suggested action plans for President Rodrigo R. Duterte.   
"I am asking the Development Budget Coordination Committee (DBCC) to convene in the next several days so they can firm up their recommendation to President Duterte," she said in a statement.   
"Suspending the excise tax on imported crude and fuel is the call of the Development Budget Coordinating Committee. This is their mandate under the last part of Section 43 of Republic Act 10963, also known as the TRAIN (Tax Reform for Acceleration and Inclusion) Law." 
She cited that under the TRAIN Law, the national government could enforce several response measures against oil price hikes, including providing fuel vouchers, and a 10% discount on transportation fares and rice stock from the National Food Authority. — Jaspearl Emerald G. Tan