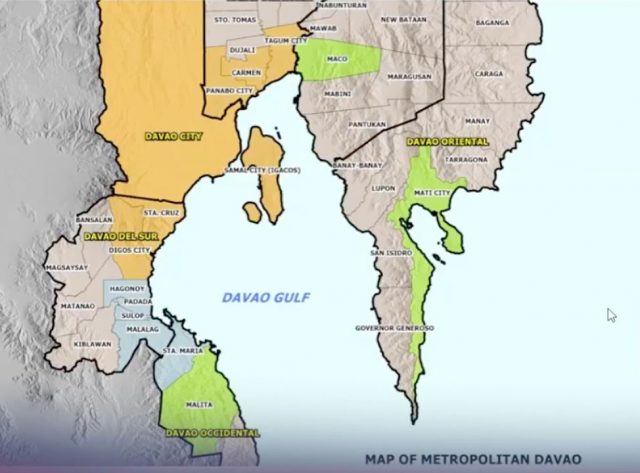 THE MINDANAO Development Authority (MinDA) welcomes the forthcoming establishment of the Metro Davao area, citing that its governing agency could help in the development of other urban centers in the country's southern island.  
"We are seeing this as aligning with our long-term assumption of how metropolis is going to evolve and emerge in Mindanao in the next few years," Assistant Secretary and MinDA Deputy Executive Director Romeo M. Montenegro said in a virtual press briefing last week.  
The Congress-ratified bill that will create Metro Davao and set up the Metropolitan Davao Development Authority (MDDA) has been transmitted to Malacañang for the President's signature, according to Davao City Rep. Isidro T. Ungab, author of the measure's version in the House of Representatives. 
Mr. Montenegro said MDDA will aid other Mindanao stakeholders in terms of identifying specific strategies that should be pursued given the strengths and resources of the different regions.  
"As we have always highlighted through the Mindanao Corridors (strategy), there is no 'one size fits all' strategies in Mindanao and everything is incumbent with the peculiarity of the area and the nuances of the localities," Mr. Montenegro said.   
"And therefore, if we are looking at specific development directions and planning for Metro Davao, it will have differences with the development direction that we should also be looking at (for example) the rural areas in Mindanao," he added. 
The Senate approved the consolidated bills on Metro Davao in mid-January.  
It covers 15 towns and cities, with development programs and projects to be synchronized by the MDDA.  
These are: Davao City; cities of Panabo, Tagum, and the Island Garden City of Samal in Davao del Norte; Digos City in Davao del Sur; Mati City in Davao Oriental; and the municipalities of Sta. Cruz, Hagonoy, Padada, Malalag, and Sulop in Davao del Sur; Carmen in Davao del Norte; Maco in Davao de Oro; and Malita and Sta. Maria in Davao Occidental. — Maya M. Padillo