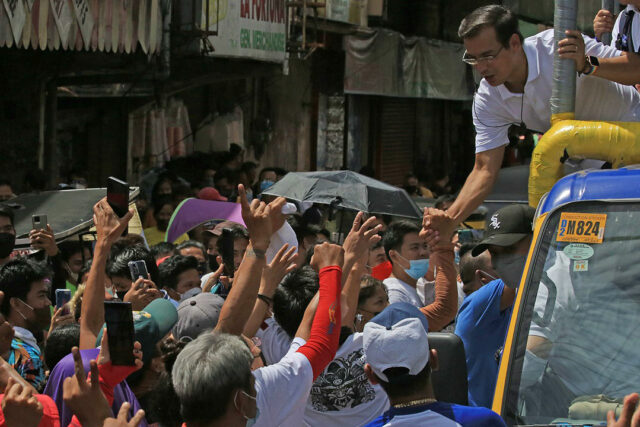 MANILA Mayor Francisco "Isko" M. Domagoso said Tuesday that if he wins the presidential race in May, he would direct local government units (LGU) to use their increased share from national funds starting this year to build key infrastructures and purchase agricultural equipment. 
"We will devolve the other functions of the national government to the local government due to the Mandanas ruling which they will benefit from. What we will provide them is direction," Mr. Domagoso said in Filipino in an interview with Radyo Singko.  
"I believe in (prioritizing) minimum basic needs, which is better known as HDI or human development index. So, these funds should be used for housing, if it suits them, schools, because we also know that in the far-flung areas, children do not have nearby access to them, (and) hospitals. If possible, or if the law allows it, this is where their new source of income should be focused on," he said.  
The Supreme Court ruling on the Mandanas-Garcia case, which takes effect this year, expanded the share of LGUs from the government's tax collections.  
The current mayor of the capital city added that for LGUs in agricultural areas, their budget should be centered on food production.   
"If the place is an (agricultural) area, the menu for spending should be on food production," the standard-bearer of Aksyon Demokratiko said.  
Meanwhile, party chairman Ernesto M. Ramel, Jr. reiterated his request for a copy of the Bureau of Internal Revenue's (BIR) demand letter to the family of presidential bet Ferdinand R. Marcos, Jr. over unpaid estate tax.   
"I am again writing you to formally request a copy of the Dec. 2, 2021 demand letter addressed to the Marcos heirs," he said in a letter to BIR Commissioner Caesar R. Dulay.    
Mr. Domagoso earlier promised that the tax collected from the Marcos heirs will be distributed as cash aid for the drivers, farmers and those who lost their jobs during the pandemic. — Jaspearl Emerald G. Tan