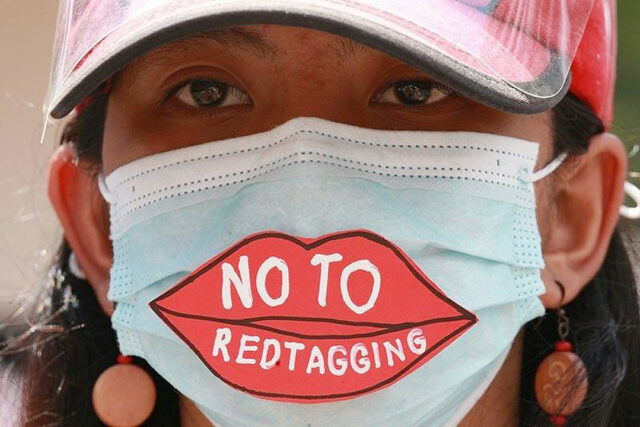 SEVERAL complaints were filed before the Ombudsman on Wednesday against the spokesperson of the government's anti-communist task force for allegedly using her position to spread fake news and tagging groups and personalities as reds or terrorists without basis.   
Undersecretary Lorraine Marie T. Badoy, who serves as spokesperson of the National Task Force to End Local Communist Armed Conflict (NTF-ELCAC), is facing complaints from 26 activists.   
"A gossipmonger and fake news spreader must not be allowed to serve as spokesperson of any agency, or even be allowed any post in government service," Ofelia Tabacon, a teacher leader who is one of the complainants, said in a statement.   
Ms. Tabacon, a former head of the Alliance of Concerned Teachers (ACT) in Northern Mindanao, along with ACT-National Capital Region President Vladimer Quetua and their organization as a whole were among those previously accused of being communists by Ms. Badoy.   
The complaints also stem from Ms. Badoy's recent Facebook posts claiming that presidential bet Vice President Maria Leonor "Leni" G. Robredo and party-list groups under the Makabayan bloc are linked to the Communist Party of the Philippines (CPP).  
"We are collectively shocked at such behavior, which we believe are unbecoming of Undersecretary Badoy's office," the activists said in their complaint.  
"The posts are clearly designed to paint Vice President Robredo as an alleged supporter of terrorism and activities of the CPP, and this attempt at associating her and her presidential campaign to the communist movement without due basis in fact is not the behavior worthy of the post that Undersecretary Badoy occupies as a government official."  
Ms. Quetua pointed out that public school teachers and other government rank-and-file employees "are prohibited from electioneering, then all the more reason that those occupying higher posts and having greater access to public funds and resources like Ms. Badoy must not be allowed to campaign for or against any candidate."  
The complaints cite violations of provisions of the 1987 Constitution, the Anti-Graft and Corruptions Act or Republic Act 3019, and the Code of Conduct and Ethical Standards for Public Officials and Employees or R.A. 6713.  
Meanwhile, ACT-CIS Party-list Rep. France L. Castro said red-taggers, or those who label individuals as communists or terrorists, should be held accountable for their actions, especially during an election period.  
"Red-tagging is an act having perilous consequences, and such a dastardly tactic must not be resorted to, especially using public authority and the taxpayers' money and resources," Ms. Castro said in a separate statement.  
"We hope that the Ombudsman sees this."  
BAGUIO MAYOR
Meanwhile, Baguio City Mayor Benjamin B. Magalong slammed Ms. Badoy for alleging that he has given directives that "give cover" to the Kabataan Party-list as a front of the communist movement.  
Kabataan was among those that won in the 2019 elections and currently holds a seat in the House of Representatives.   
In a statement on Wednesday, Mr. Magalong said he is ready "to face Badoy et al in public and debate with them. I am on the side of truth and I did not do anything wrong to undermine the ELCAC program."  
The ELCAC program was borne out of the Duterte administration's "whole-of-nation" approach to end the 50-year communist movement in the country with local government units (LGUs) at the forefront of localized peace talks alongside the delivery of economic projects and social services.   
"LGUs should be their strong partners," said Mr. Magalong, a former police officer.   
"We should support each other and cooperate with one another. Bullying and manipulating facts damage that relationship," he said.   
"They (Ms. Badoy and company) twist the facts and shout over social media. This tactic erodes the unprecedented gains of ELCAC," Mr. Magalong said.   
Ms. Badoy has yet to reply to a request for comment. — Jaspearl Emerald G. Tan