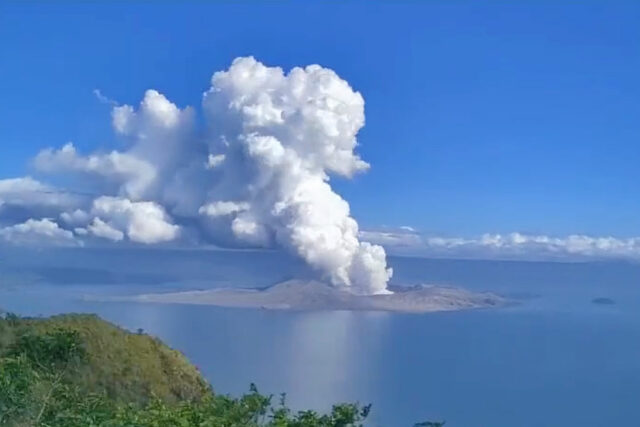 TAAL Volcano remained at an "intensified unrest" state on Sunday after an eruption Saturday morning that emitted plumes of up to 3,000 meters, according to state volcanologists.   
The Philippine Institute of Volcanology and Seismology (Phivolcs), in its March 27 bulletin on the volcano located about 100 kilometers south of the capital Manila, said it recorded four phreatomagmatic events between 7:22 a.m. Saturday to 5:00 a.m. Sunday.   
Phreatomagmatic events are volcanic eruptions brought about by interaction between magma and water.   
Phivolcs has raised the alert status on Taal Volcano at level 3, which means "magma is near or at the surface, and activity could lead to hazardous eruption in weeks." The danger zone may also be expanded to eight kilometers from the active crater, according to the agency's warning system.    
Residents in identified high-risk villages around the volcano have been evacuated.  
Pilots have also been advised against flying close to the volcano.    
Taal Volcano's last major eruption was on Jan. 12, 2020.   
The Batangas provincial government's disaster management council held a meeting Saturday to discuss forced evacuation and other preparedness activities, and response measures. — MSJ