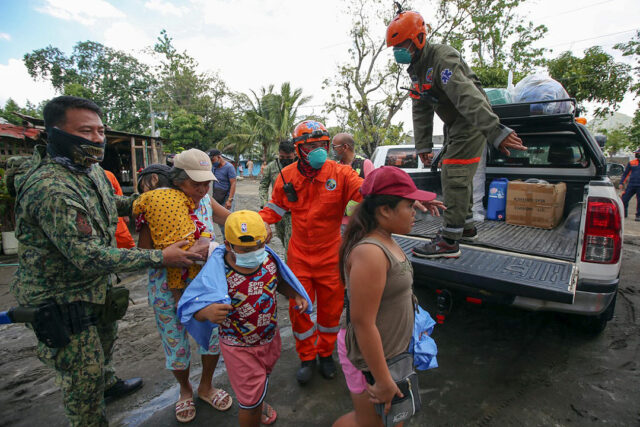 MORE THAN 1,500 families have been affected by the continued unrest of Taal Volcano, with almost 5,000 people displaced from their homes, based on data from the national disaster management agency as of March 29.  
Of the 5,688 affected residents from the danger zones around the volcano, 4,974 were staying in 17 evacuation centers or temporarily moved to another house.  
Taal Volcano, located about 100 kilometers south of the capital Manila, erupted on March 26 with four phreatomagmatic events recorded by the Philippine Institute of Volcanology and Seismology (Phivolcs) up to early Sunday morning.   
Phivolcs has raised the alert status on Taal Volcano at level 3, which means "magma is near or at the surface, and activity could lead to hazardous eruption in weeks." The danger zone may also be expanded to eight kilometers from the active crater, according to the agency's warning system.      
Alert level 3 remains in effect as another three phreatomagmatic bursts — or volcanic eruptions brought about by interaction between magma and water — were recorded within a 25-hour period from Monday to Tuesday 5. am.      
Phivolcs also reported in its March 29 bulletin that eight volcanic earthquakes were recorded, including one volcanic tremor that lasted for five minutes.   
Plumes emitted on Monday reached as high as 2,400 meters while the volume of sulfur dioxide flux (SO2) released was 4,273 tons. These were higher than the 1,000-meter plume and 1,140-ton SO2 recorded on Sunday. — MSJ