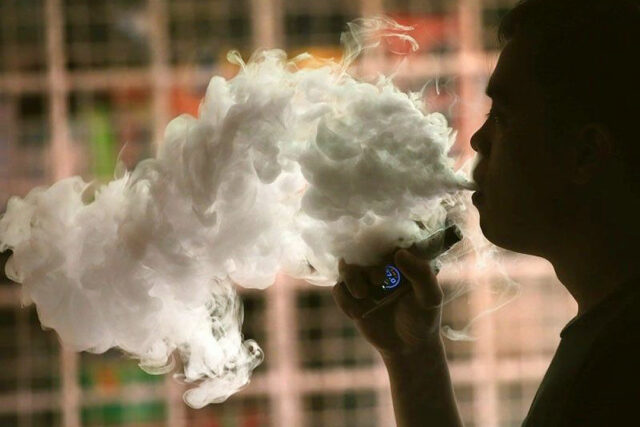 A LAWMAKER was criticized by a group of health advocates for saying that those against a proposed law regulating electronic cigarettes (e-cigarettes) are peddlers of fake news. 
AAMBIS-OWA Party-list Rep. Sharon S. Garin, a member of the vape bill bicameral council, should not call sectors who oppose the bill as bearers of fake news, the Sin Tax Coalition said.  
"On the contrary, the supporters of the Vape Bill are the ones using false information and spreading unverified and controverted studies to favor their narrative that the vape bill is pro-youth and pro-health," members of the Sin Tax Coalition said in a statement released Tuesday.  
"We ask Representative Garin not to spread false news."   
Ms. Garin did not immediately respond to a request for comment on Viber.  
The health advocates pointed out that the measure would just remove the strong regulation provided by other laws, including Republic Act (RA) No. 11346, RA No. 11467 and Executive Order (EO) 106, and would expose more youth to e-cigarettes. 
"The deregulation is not only in the age of access requirement that the bill lowers from 21 to 18 years old, which will open the access to these harmful products to more young users," the coalition said.  
"Online marketing and sale of these products are also encouraged by the vape bill, when we know that children and the youth are more exposed now to online platforms."  
RA No. 11346 and 11467 are laws that increase the excise tax imposed on tobacco products while EO 106 is a law that bans the manufacturing and selling of unregistered e-cigarettes.   
The pending new law, which has been opposed by more than 50 medical groups in the country, was approved by both chambers of Congress in late January.    
It has yet to be confirmed if the ratified copy was already transmitted to Malacañang. Under the country's legislation rules, a bill sent to the President's office automatically lapses into law 30 days after receipt if no action is taken.  
According to the Sin Tax Coalition, the bill is a "deception" and will not strengthen the regulation of vape contrary to claims of legislators, citing that it has always been regulated by the Food and Drug Administration.  
"The vape bill is far from being a harm reduction strategy. The bill is what we should call fake news. Anti-health politicians claim that the vape bill will finally regulate vaping," they said.   
"That is patently false. The truth is, vaping has always been regulated by the Food and Drug Authority through Republic Act No. 11467 and Executive Order No. 106."   
Jaime Z. Galvez-Tan, a board member of Health Justice Philippines which is under the coalition, said that they will keep protecting children from harmful tobacco and nicotine products.  
"We remain committed to genuinely protecting the interest of children, the young and vulnerable from the harms of tobacco and nicotine," said Mr. Tan, a former health secretary. — Jaspearl Emerald G. Tan