The multi-talented Leni Reynoso Araullo is a living miracle. Now 81, the mother, widow, grandmother, great grandmother, culinary instructor, nurse, musician and late bloomer painter was only given a 50-50 chance to live to her mid-40s when she was first diagnosed with Stage 3 cancer in 1981. Forty-one years later, she is a three-time cancer survivor, having been diagnosed again in 2000 (stage 1) and in 2005 (stage 1). She is currently cancer-free and requires no further treatment after surgery.
But that's not all. When she was in her 70s, Leni discovered painting and is today an award-winning artist as well. How did she come to tap yet another talent during her retirement years? In the conversation that follows, Leni shares more of her remarkable, inspiring story.
You are 81 years old and one of our oldest cancer survivors, having been diagnosed more than 45 years ago. What was that like for you and your family?
"My cancer was Stage 3 and I was given only a 50-50 chance of a five-year survival. I couldn't give up that easily because my kids were so young then and I didn't want to orphan them. My husband passed away many years ago and I am a mom to my son Jay, and to my daughter Joanne. Jay was just in first year high school and Joanne was in junior high when I first had a bout with cancer in 1981. I really had to pray hard and asked God to at least help me to survive the five years so they can at least finish high school. God did answer my prayers and gifted me with this miraculous survival, giving me all these extra years to enjoy my kids, grandchildren, and great grandchildren. Prayers do result in miracles."
What motivated you to take painting classes when your family is better known in the culinary world? (Leni's mom, Edna Reynoso, opened a culinary school way back in 1963 and afterwards her sister, Sylvia Reynoso-Gala continued the culinary academy.  Her other sister, Edna Reynoso-Anton owns the chain of Sizzling Plate restaurants in Baguio City.)
"Painting was never on my mind. I continued to study other subjects in the academic field, mostly in science. I was a 'mature' artist at 75 years old when I discovered painting. I was enrolled in zumba and yoga at the Glassell Park Senior Center when I heard laughter from a group of seniors who seemed to be having so much fun. I approached them and asked what class it was, and they said it was art. I was bewildered seeing some of them sewing using the machine and embroidering, some with paint brushes, colored pencils, etc. They coaxed me to join the fun, which I did. On my first day in class, I was given a set of watercolors and paper, and the teacher just said to sketch and paint whatever subject you want. Arriving empty-handed with no pictures for reference, I looked around the room. Because Halloween decorations were still hanging on the walls, I decided to paint Dracula as my subject. My rationale was that if it turned out ugly, it was Dracula anyway so that was okay. Lo and behold, after I finished, my teacher and classmates were surprised, just as I was, that it turned out nice. They told me, 'Girl, you are good!' This really awakened my love for the visual arts."
Tell us about your style and where you get your inspiration from.
"My mom taught me how to design and decorate cakes when I was 10 years old and I really enjoyed it, especially when people ordered decorated cakes and I was paid for it.
"After graduating from college with a BSC and BSBA and postgraduate studies, I decided to pursue and expand my studies in the Culinary Arts, focusing on Cake Decorating. I eventually received my diploma as a Master Cake Decorator from the Wilton School of Confectionery Arts School in Chicago.
"I used my knowledge of cake design and decorating in my paintings whenever I want to use texture, whether I use a palette knife or other ways to add texture to my paintings. I love the feel of texture and try to make it look like a three-dimensional 'masterpiece.' I am also encouraged by my current instructors at Sunshine Place Senior Center (in Bel Air, Makati), maestro Fidel Malig Sarmiento and his assistant, Robert Fernandez, both of whom are multi-awarded international artists.
"In 2018, before COVID, classes were conducted face-to-face at Sunshine Place. This is where I had two solo art exhibits, multiple group exhibits, and online exhibits. Needless to say, I am inspired and elated when people buy my paintings.
"During the COVID lockdown, Sunshine offered Zoom classes in painting. Maestro Fidel and Robert offered classes in Acrylic, Oil, Graphite, Oil Pastel, palette knife, etc. They are unselfish about sharing their talent, knowledge and secrets with us. They encouraged us to join art competitions to build our self-confidence.
"We had field trips from way up north in Baguio to way down south in Batangas, helping and teaching us to do on-the-spot painting. After each adventure, a group exhibit followed."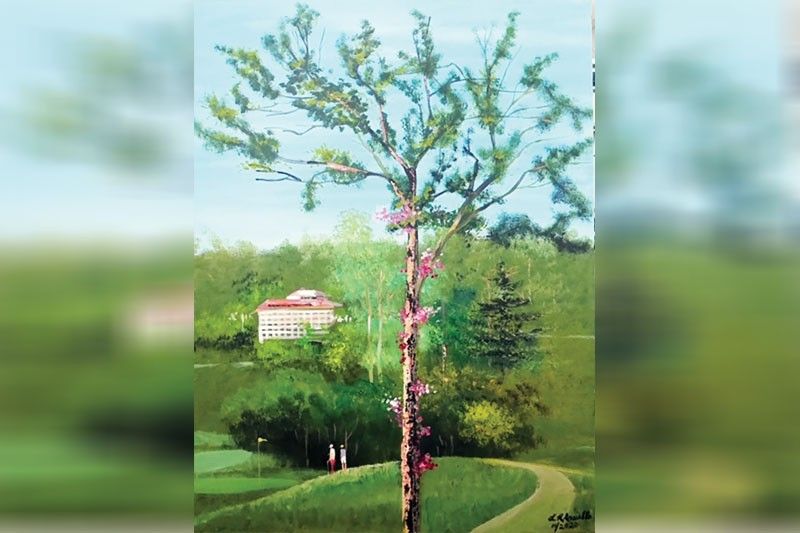 Your family is very proud that despite your "mature" age, you continue to join and win competitions without showing signs of slowing down. Why is this so? Do you have a bucket list of things you would still like to accomplish?
"I find joining art competitions fun and challenging, and they keep your mind and imagination active. Once I find out what the motif or subject is that we have to create and express using visual art, that is when my adrenaline starts pumping and I get excited to create and illustrate what the committee has in mind.
"My 'bucket list' objectives would be to win the coveted Top Prize in any contest that I join, and for my paintings to be appreciated by people, especially the art connoisseurs and not just by my family. I would also like to see all the marvelous UNESCO World Heritage Sites, take pictures, and try to paint these sceneries.
"When I was young, I wanted to jump off a plane and parachute to mother earth. However, as the years crept up, I changed it to bungee jumping but wasn't able to realize that too. So as my age started creeping up, my ambition was to walk at the Camino Real, huhuhu, but I still missed this. At 81 years young, I am just so happy walking around the block in my neighborhood, hoping to complete at least 5K steps a day, hahaha!"
Was being a cancer survivor a hindrance to pursuing your artistic career?
"I wouldn't say a hindrance. In fact, I believe it inspires me to go on to want to live longer, pursue and improve my artistic career and leave a lasting legacy for my kids, grandkids, great grandkids and beyond, and to make my immediate family proud despite the long delay in discovering this 'talent.'"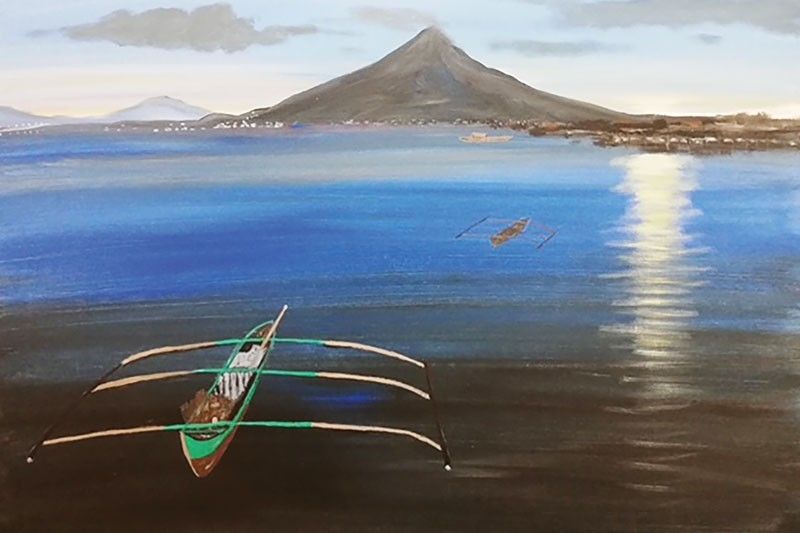 Lastly, please share tips on how to be a full-functioning cancer survivor.
"First and foremost, don't give up on life. You should continue to search for or pursue your passion, whatever it might be, whether you are a child or a senior.
"Make new friends, especially those who have the same interests as yourself. Try to reconnect with classmates or friends from years ago.
"Find time for yourself, learn new things, or pick up from what hobby or talent you left hanging from years ago. I learned to use the computer because I wanted to keep in touch with my family in Los Angeles, Hawaii, San Francisco and Kuwait. I am trying to learn the music keyboard again. For the violin and viola, with my crooked fingers, they would just give off sounds that are out of tune and even scare the rats. As for the marimba, my shoulders and legs complain with pain, so out it goes.
"When I don't have Zoom classes in painting, I occupy myself making tocino and longaniza in my condo, experimenting on new recipes, be it in cooking or baking."