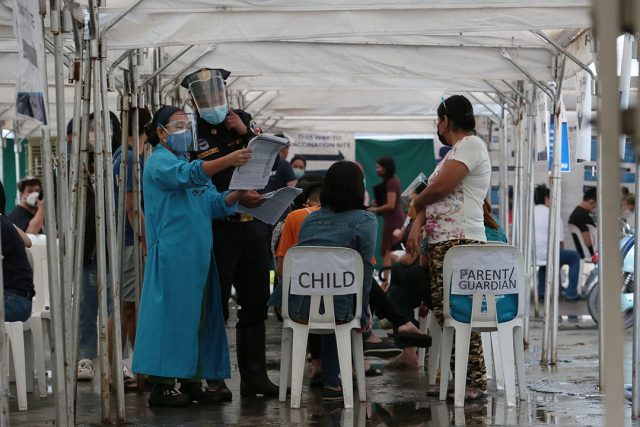 MOST areas in the Philippines will remain under the lowest coronavirus alert up to the first half of July, according to the presidential palace, as authorities modified the matrices used to determine quarantine classifications.   
Metro Manila is among the areas that will be placed under the first level of a five-scale alert system from July 1 to 15, Palace spokesman Jose Ruperto Martin M. Andanar said in a statement on Tuesday.   
The capital region, an economic powerhouse that is home to more than 13 million people, is currently under the same virus alert.  
On the other hand, 37 areas from across the Philippines "shall be placed" under the alert system's level 2, Mr. Andanar said.   
Starting July 1, alert level classifications will be based "on the revised cross tabulation of total beds utilization rate and average daily attack rate," the Palace official said.   
He said the new matrix will remove the two-week growth rate in determining case-risk classification, which will now be based on average daily attack rates and current thresholds.  
"Total beds utilization rate and its current thresholds are retained as the main metric for health system capacity."  
The positivity rate in Metro Manila had reached 5.9% on June 25 from 3.9% on June 18, monitoring group OCTA Research said on Monday.  
TESTING
Mr. Andanar, in a separate statement, said unvaccinated on-site workers in both public and private sectors in areas under alert level 2 and higher must either undergo RT-PCR tests once every two weeks or take weekly antigen tests.  
"In areas where there are sufficient supplies of COVID-19 vaccines, all establishments and employers in the public and private sector shall require their eligible employees who are tasked to do on-site work to be vaccinated against COVID-19," he said. 
The new testing rules are waived in alert level 1 areas "subject to the implementation of clinical-based management, including symptomatic testing."  
The Trade Union Congress of the Philippines (TUCP) said mandatory testing and vaccination "will create unemployment and underemployment opportunities in the light of our economy striving to recover from the pandemic adversity."  
The policy, which critics view as anti-poor, would derail business recovery, reduce production, and make workers lose their competitiveness, TUCP said in a statement.  
It said that testing should be made free and accessible because if not, "workers and their families will sacrifice some more because a bigger part of their salaries will, again, go to payment for the cost of periodic testing alone." — Kyle Aristophere T. Atienza